When people hear Elks Lodge outdoor piano show they may beg to do anything else. But Felix and Fingers offered a hilarious, interactive show all while highlighting the FUN factor! In fact, eye rolls were replaced with belly aching laughs and some great vulgarities. This audience did not want the fun to end. Therefore, Felix and Fingers had a blast at the successful Elks Lodge outdoor piano show! Check out the Elks Lodge for your next party, you won't be disappointed!
Elks Lodge Outdoor Piano Show Springfield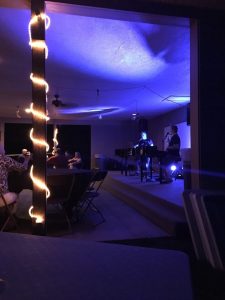 When we first arrived at the Elks Lodge in Springfield, OH it felt like one big backyard party. Our performers for the Elks Lodge outdoor piano show were Mike Sherman and Greg Percifield. These two guys are no strangers to the Elks Lodge. Many shows have been played here over the years. Before the show, everyone lined up to grab a hot dog or burger. A HUGE gust of wind ripped one of the tents from the ground, sending it across the street. Thankfully, nobody was hurt.
Felix and Fingers looked forward to this year's show because the Elks Lodge built a new stage. It was huge and gave us a great view of our audience! We held a fun sing off, splitting the room in half and prompting one side to sing Rolling in the Deep by Adele while the other side waited their turn. In all honesty, both sides of the room sang amazingly! It wasn't long before requests started pouring in. Mike and Greg couldn't resist Livin' La Vida Loca by Ricky Martin to get this crowd on their feet and grooving. Not only did this fun loving crowd get up and start dancing, but some crazy requests started happening.
A Good Vulgar Family Event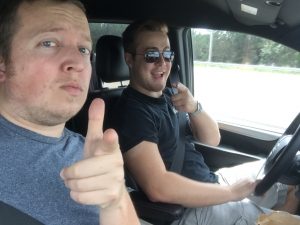 Every year Felix and Fingers play for the Elks Lodge outdoor piano show, and every year Mike Scott's family from Cincinnati come out to see us play. It's always great catching up with good folk after a successful piano show. We typically hit the local watering hole after our show to mingle. To begin with, this was a very vulgar show. In a good way. Things got crazy after Real Nigga Roll Call by Lil John ft Ice Cube and Surfacing by Slipknot were played. Not only were dirty knock-knock jokes on the table, but more profanity soaked song requests found our pianos throughout the Elks Lodge outdoor piano show.
The Elks Lodge outdoor piano show knew how to keep people happy with great food. While everyone enjoyed delicious grilled food and LOTS of beer, we made sure to keep everyone HAPPY with our show. No sooner did we announce our last song did our audience demand overtime. They loved us so much they asked us to stay! It was gracious of the Elks Lodge to pay us overtime and we had a blast watching everyone dance and sing. Our request to the crowd was to form a circle at the end of our show and sing Piano Man by Billy Joel. Everyone had a GREAT time!
Contact Us
Felix and Fingers had a blast playing at the Elks Lodge outdoor piano show. It was a great show and a ton of fun for everyone. If you're interested in bringing Felix and Fingers to your next event send them an email to: info@felixandfingers.com or click here for more information on our website. We look forward to hearing from you soon!
{{ reviewsOverall }} / 5
Users
(0 votes)