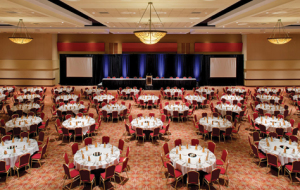 You've probably already read (or heard about) studies that show plants tend to grow healthier and faster when in a musical environment.  I'm not completely positive how this works.  Some theories suggest that the vibrations of the sound encourage the flow of nutrients.  My own theory is that plants simply like funny jokes and musical entertainment.
While that may be just a theory, I hope we provided some proof while providing the Hyatt Regency entertainment for the Dummen Group in Columbus, Ohio.  Whether or not the plants in the area thrived, Dummen Group enjoyed our musical entertainment and jokes.  They must have known they were in for a good show.  After all, they brought us all the way out to Columbus to share our energy with them (and any lucky plants that may have been in the listening radius.)
The First Reveal Of Our Portable Shell Prototype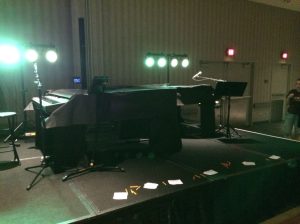 What is a portable shell?  It's an invention by our own "Fingers."  Yes, he does not just play piano, but he has a knowledge of building and mechanics, as well.  While we do have actual piano shells that we often use, we also have a trimmed down version that still provides the full grand look (only it's not made of wood.)
It was the first time to put them to use in a live show.  And although I had a quick live presentation (a few days prior) and a video tutorial to help me construct it, I'll admit, we fumbled a bit when it came time to construct.  Not a big deal.
Driving to Columbus is a bit of a drive.  Coming home, I did close to 12 hours of non-stop driving.  In any event, we planned on arriving a few hours early, just because of the fact that we were using shells that we did not have experience with.  Planning an early start was a good thing, because after I thought I had it all ready to go, I realized I left something important in my car, which was conveniently parked a 1/4 mile away in a parking garage.
So, after the long drive, and rushing to set up, and my jog (and a bit of sprinting) to the car and back, we were set!  OK… so it was a bit of a big deal at the time.  But all that was suddenly put aside at showtime.
The show was a blast! And oddly for myself, it was the first time to actually play "Brick House."  It's a request that comes in all the time, but the request slip never seems to land in my own lap.  In fact, I'm not sure this one did either.  Emily sang it, and I played it on the piano.  We really pulled it off with the perfect groove and energy, and the crowd loved it.
How About Columbus?
I have to say, it was my first time to explore the city, and I can't wait to go back for another event.  In fact, two of our other players have since made the travel for a Columbus, Ohio show.  What can I say, our name gets around!
Book Felix and Fingers for your event today!
{{ reviewsOverall }} / 5
Users
(0 votes)