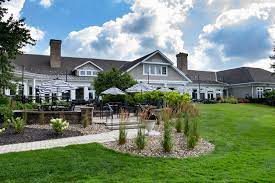 The Jefferson Country Club in Blacklick, Ohio, recently hosted an electrifying dueling pianos event by Felix And Fingers. The club's staff couldn't stop raving about the unique entertainment experience and the enthusiastic crowd. From smooth performances to surprising dance moments, this event was one for the books. Let's dive into the highlights of the night and discover why Jefferson Country Club is the perfect venue for an unforgettable dueling piano experience.
Smooth Show, Happy Staff
Once again, Felix And Fingers delivered an exceptional performance that left the Jefferson Country Club staff in awe. The staff voluntarily expressed their amazement, stating that they had never seen anything quite like it. The interaction and enjoyment they witnessed from the crowd were beyond their expectations. The smoothness of the show, with everything happening right on time, added to the overall positive experience.
Leading the Party, One Song at a Time
As the doors opened and guests walked into the room, they were greeted with the excitement of not knowing what style of music they would enjoy or what requests they would make. Felix And Fingers thrived on this uncertainty, skillfully leading the audience from one song to another, gradually building up the energy and creating an electric atmosphere. The transition from anticipation to full-blown party mode was a sight to behold.
Surprising Dance Moves and Unforgettable Memories
To everyone's surprise, the biggest highlight of the night came when a couples dance tune played. The dance floor quickly filled up with married couples, showcasing their moves and enjoying a slow dance. It was a heartwarming moment that added a touch of romance and nostalgia to the already vibrant atmosphere. The energy was infectious, making it impossible for anyone to resist joining in on the fun.
The Tips: A Testament to an Enjoyable Show
One of the best indicators of a successful dueling piano event is the generosity of the crowd. And at Jefferson Country Club, the tips poured in, reflecting just how enjoyable the show was. The heavy interaction between the performers and the audience, the abundance of fun, memories, high-fives, and laughter all contributed to a memorable night that left everyone wanting more.
The recent dueling pianos event at Jefferson Country Club was an absolute hit. With a smooth show that impressed the staff, surprising dance moments that brought couples together, and an overall atmosphere of pure enjoyment, it's no wonder this event left a lasting impression. If you're considering booking a dueling piano event, look no further than Felix And Fingers. Contact them at (800) 557-4196 to create your own unforgettable night of music, laughter, and memories. And don't forget to share this blog post with your friends and family to spread the excitement!
{{ reviewsOverall }} / 5
Users
(0 votes)