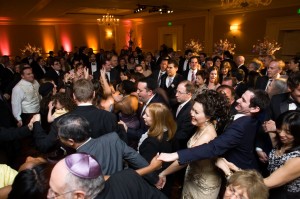 What? You don't know that song? Don't worry. In all fairness,  there is not just one song that might be played during the traditional chair lift, or as people dance to the Hora (a circular dance,) or even during a mosh pit.  Yes, Bar/Bat Mitzvahs can get really crazy, as can any party.  But also know, that these festivities are not specific to only bar/bat mitzvah parties.  Dancing the Hora, mosh pit style dancing, and the traditional chair lift could occur at many celebrations, such as a wedding, or even college events.
But back to the point… What is that song you are trying so hard to find the title for? I am going to venture to guess that you are thinking of 'Hava Nagila.'  Just remember, there is not one single correct song.  Hava Nagila is simply a very popular selection.
Regardless if you know the title or not, many people recognize the music due to its uplifting melody and the numerous amount of popular artists that have performed and recorded it.
About Hava Nagila
Translated, the title means, "Let's Rejoice!"  The song typically picks up pace as it continues, as demonstrated in the video below.  It has been recorded by countless artists such as Elvis, Ben Folds, Harry Belafonte, Chubby Checker, Bob Dylan and Neil Diamond (just to name a few.)  If you're wondering, Neil Diamond is in fact Jewish, despite the fact that he released a Christmas album!
Roughly 150 years old, Hava Nagila  originated without any words.  It was sang as a niggun (generally repetitive sounds, without text.)
Inspired by Psalm 118: "Let's Rejoice And Be Happy," it is said that Abraham Idelsohn later penned the lyrics for the song.

Other Mosh Pit Tunes You Might Be Thinking Of
There are many other popular songs for bar/bat mitzvahs.  Currently popular for the 13 year old age group is  a style of music known as dubstep.  Some popular dubstep artsits are Flux Pavillion, Skrillex, Nero, Modestep and Zomboy.  Those artists are among the most common for DJs to play at bar/bat mitzvahs in order to achieve a high energy dance.
Although dubstep may not seem to be completely ideal for a dueling piano arrangement, we can certainly play a couple of dubstep tunes, and DJ others as needed.
Another request conducive for moshing, popular among the North Shore Chicagoland bar/bat mitzvah communities is Shots by LMFAO.  Why 13-year olds are singing about shots, I'll never know.  Regardless, they always sing and dance to it.
Is there a mosh pit song that you love?  Let us know by commenting below.
Are you planning a bar/bat mitzvah party?  Learn about the services that we provide and contact us!  We're looking forward to hearing from you so that we can provide more information.
{{ reviewsOverall }} / 5
Users
(0 votes)