Four-Day Hockey Tournament Corporate Event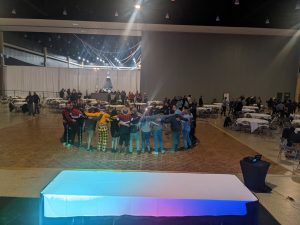 Our Tralf Music Hall Corporate Event was a banquet and awards ceremony for a four-day hockey tournament. Who knew the participants in this tournament were ALL employed in aviation?! Not us, until we arrived. There was one team of pilots, although the vast majority of guests were air-traffic controllers.
Our Tralf Music Hall Corporate Event event was actually three years in the making. Everyone was so happy to get together again. From cocktail hour, until the last plate of delicious dessert, we rocked the music hall. Acoustics were killer here, helping us perform for a very large crowd.
The fact that an international air traffic controllers hockey league exists is amazing. We support this league 100%! As a matter of fact, this organization has been having annual tournaments for 50 years. They sure knew what they were doing. So did our performers, Kevin and Vince. Working hard together, performing all the requests on their pianos, Felix brought a notably high-energy show. Our audience loved them.
Furthermore, our performers packed the floor with Wannabe by The Spice Girls. From there, it was a dueling knock out show.  When our performers played Toxic by Britney Spears, our crowd went nuts. Always great to see everyone having a blast! Our final song of the night was Piano Man by Billy Joel, our signature tune. Kevin and Vince brought everyone together on the floor in a large circle to sway and sing the night away. Hence, a truly perfect finish to our evening!
Contact Us
If you're searching for a high-energy, super-fun show, shoot us an email to info@felixandfingers.com. Please click here if you'd like additional information on our fabulous dueling show. We look forward to hearing from you soon!