Our Whippoorwill Acres Fundraiser Event was located in Lancaster, MO, and was definitely a super-fun show. Representing Felix for this notably profitable evening were our very own Kevin Coon and Nick Slater. Our high-energy and interactive performers kept their audience happy all night long!
Whippoorwill Acres Fundraiser Event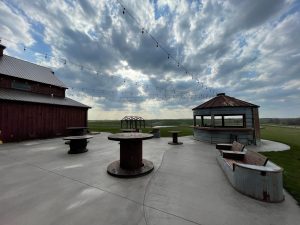 The coolest thing about this fundraiser was that Whippoorwill's owners organized this event. Whippoorwill Acres were giving back to the public schools, specifically, for Putnam and Shuyler counties. Whippoorwill Acres is an impressive venue. There's a great wooden barn feel. This gave our event a rustic vibe, while maintaining a fresh new aesthetic. Not only is Whippoorwill Acres a performance location, but an event venue to remember. Furthermore, this was a wonderful crowd that joined us for a fun evening at Whippoorwill Acres! If you'd like additional information on Whippoorwill Acres, please click here.
As mentioned above, Whippoorwill Acres is a lovely event space. Actually, it's amazingly beautiful. In all honesty, a very well-equipped venue. Felix had a ball working side by side with an incredible staff. Everyone was so friendly to us. Kevin and Nick actually had their own performers' suite. Not only did this room have a couch, but we had our own private bathroom to freshen up in. This addition made our performers feel extra special. Thank you so much Whippoorwill Acres!
Whippoorwill Acres event space and audience were quite large. Although even before showtime, our performers were making all sorts of new friends. Felix loves to interact with happy crowds, hence we had fun planning the live music part of our show. Several guests made sure to introduce themselves to us at our Whippoorwill Acres Fundraiser Event. We knew these guys would help keep our night on fire. And they did!
Amazing Dinner and Tons of Dancing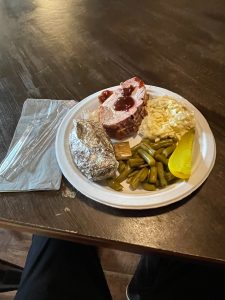 We had an amazing meal of pork loin, green beans, baked potato and coleslaw. So seriously tasty. Oh, and get a load of this, an amazing cinnamon apple pie for dessert. All American goodness. After our last bit of scrumptious pie, song requests rolled in thick and fast. We loved all the different genres we were able to choose from.
Felix had a great idea. As our Whippoorwill Acres Fundraiser Event was to support elementary schools, we kicked into Disney!  "For the Kids." Our performers played Under the Sea from The Little Mermaid and Hakuna Matata from the Lion King. The crowd surely loved our creativity. Everyone all together brought up a good sum for the Whippoorwill Acres Fundraiser Event. Felix actually raised quite a bit of funds for teacher supplies at this fundraiser. We love giving back.
Above all, our crowd adored participating in sing-alongs and packing the dance floor with great moves. Felix pitted the two local counties against each other with Bohemian Rhapsody from Queen. What a hoot. We kept a tally for huge song requests. Our performers then raised several hundred dollars for the school's PTO by playing them all. There was also a ton of fun debating whether Cardi B's WAP could or should happen. This song definitely happened. All in all, great fun and a memorable night for a wonderful cause.
Contact Us
If you're searching for a party like no other, shoot us an email to info@felixandfingers.com. Do you require additional information on our players and show? Click here and see why Felix is the #1 online dueling piano show. We look forward to hearing from you soon!
{{ reviewsOverall }} / 5
Users
(1 vote)