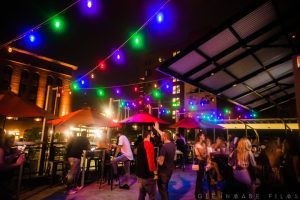 The lively city of Saint Louis recently played host to an unforgettable dueling piano event at the renowned Tin Roof venue. On April 18, 2023, Felix And Fingers brought their electrifying performance to a corporate event, creating an evening filled with music, laughter, and non-stop entertainment. Let's dive into the highlights of this incredible night and discover why Tin Roof is the ultimate destination for live music and good times.
A Night to Remember:
Under the neon lights of Tin Roof, the Dominick's manager's convention came alive with the infectious energy of Felix And Fingers. As the evening's entertainment, the talented duo had everyone on their feet, ready to eat, dance, and sing the night away. From the moment they took the stage, it was clear that this would be a night to remember.
A Personal Touch:
The manager of the conference added a personal touch to the event by bringing his soon-to-be wife and daughter-in-law to the performance. To add a touch of humor, he even requested Felix And Fingers to poke a little fun at his daughter-in-law. The crowd erupted in laughter as the duo delivered a lighthearted and memorable moment. But the surprises didn't end there. As a special treat, Felix And Fingers played the manager's first dance song, Van Morrison's timeless classic, which he planned to dance to at his wedding in August. It was a heartwarming moment that showcased the duo's ability to create personalized experiences for their audience.
Unforgettable Requests:
Felix And Fingers are known for their ability to play an eclectic mix of songs, catering to every musical taste. At the Tin Roof event, they delighted the crowd with an array of requests, including Lady Gaga hits and Sir Mix-A-Lot's iconic anthem. The atmosphere was electric as the audience sang along, danced, and reveled in the joyous celebration of music.
Delicious Eats:
No event is complete without delicious food, and Tin Roof did not disappoint. Attendees indulged in mouthwatering smoked brisket, macaroni and cheese, and delectable chicken sandwiches. The culinary delights perfectly complemented the vibrant atmosphere, ensuring that every aspect of the evening was a feast for the senses.
Unleashing the Inner Performer:
Tin Roof's fantastic acoustics and attentive staff created the ideal setting for Felix And Fingers' performance. With a dedicated sound guy ensuring impeccable audio quality, the duo's music resonated throughout the venue, captivating everyone in attendance. The crowd's enthusiasm reached its peak during an epic dance-off ignited by the duo's rendition of "Smooth Criminal." It was a sight to behold as guests unleashed their inner performers and showcased their best moves.
A Memorable Experience:
From the moment the doors opened to the final notes played, the Felix And Fingers Dueling Pianos event at Tin Roof in Saint Louis was an unforgettable experience. The combination of exceptional music, delicious food, and a vibrant atmosphere made it a night to remember. Whether you're planning a corporate event or simply looking for a venue that guarantees a good time, Tin Roof is the place to be.
Don't Miss Out:
If you're ready to create your own unforgettable event, contact Felix And Fingers Dueling Pianos at (800) 557-4196. Let them bring their incredible talent and infectious energy to your next gathering. And don't forget to share this blog post with friends and colleagues, so they too can discover the magic of Felix And Fingers at Tin Roof in Saint Louis.
{{ reviewsOverall }} / 5
Users
(0 votes)