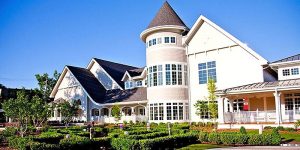 On September 16, 2023, the Magic House in Kirkwood, Missouri, was transformed into a lively and vibrant venue for a Felix And Fingers Dueling Pianos event. This special evening was not only a night of incredible musical performances but also a fundraiser for the Mo Betta Foundation. From jaw-dropping circus performers to delicious appetizers and an array of interactive musical instruments, this event had it all. Let's dive into the excitement and highlights of this unforgettable night!
Circus Performers and Interactive Art Pieces
As guests arrived at the Magic House, they were greeted by a spectacle of circus performers in the courtyard. A woman gracefully walked on stilts, towering above the crowd, while a talented juggler wowed everyone by effortlessly juggling while riding a unicycle. This captivating display set the tone for an evening filled with wonder and excitement.
Inside the Magic House, guests were treated to a visual feast of interactive musical instruments and art pieces. From giant xylophones to unique sculptures that produced melodic sounds, the venue was a playground for music enthusiasts. The cool and interactive installations truly blew everyone away, making it clear why the Magic House is a must-visit destination for music lovers.
Delicious Appetizers and Dinner
No event is complete without mouthwatering food, and the Magic House delivered on that front as well. The appetizers were out of this world, with favorites like Mac and Cheese bites and mini Ruebens stealing the show. These delectable bites kept guests fueled and ready to dance the night away.
For dinner, the meat table offered a variety of delicious selections. From succulent chicken skewers to perfectly cooked meats, there was something to satisfy every palate. The combination of great music and fantastic food created a truly unforgettable dining experience.
Heartfelt Tributes and Energetic Dancing
As the night progressed, Felix And Fingers took the stage and delivered an electrifying performance. They engaged with the crowd, taking song requests and creating a lively and interactive atmosphere. The Mo Betta Foundation, the charitable organization behind the event, proved that they were not only committed to their cause but also ready to let loose on the dance floor.
The performance was filled with memorable moments. One such moment was when Felix And Fingers played "When September Ends" as a touching tribute to their friend Benji, who had passed away. The song held a special meaning for everyone in attendance, and it was a heartfelt and emotional performance.
The crowd couldn't resist the infectious energy of the dueling pianos and danced the night away. From oldies hits like "Johnny B Good" that transported everyone back to the '60s to crowd favorites like "Mustang Sally," the crew at the Magic House couldn't help but sing along and shake it on the dance floor. The older women particularly loved Felix And Fingers' rendition of "Jailhouse Rock," showing that age is just a number when it comes to enjoying great music.
The Felix And Fingers Dueling Pianos event at the Magic House was a night to remember. From the awe-inspiring circus performers to the delicious food and interactive art pieces, every aspect of the event was carefully curated to create an unforgettable experience. The Mo Betta Foundation's commitment to charitable causes didn't stop them from having a blast on the dance floor. If you're considering booking a dueling piano event or looking for a unique venue, the Magic House and Felix And Fingers are a winning combination. Contact Felix And Fingers Dueling Pianos at (800) 557-4196 to bring this incredible experience to your next event. And don't forget to share this blog post to spread the joy of the Magic House Fundraiser with Felix And Fingers!
{{ reviewsOverall }} / 5
Users
(0 votes)
Name
Address
Website
Email
Phone
Price Range
Venue

Th Magic House

Address

516 S Kirkwood Rd




Kirkwood

,

Missouri

63122