Not all gigs are created equal. The Double Tree intermission show was a great opportunity for Felix and Fingers to switch up their act, playing an hour and 15 minute break. Our client, Americare, held a work conference at The Double Tree Hotel by Hilton and our job was to play a super fun activity show during intermission. BTW…are you searching senior living communities in the St. Louis area? If so, look into Americare, they offer many living options while focusing on person-centered care.  If you would like more information on Americare please click here. The Double Tree intermission show was one of the WILDEST events we've played.  We LOVED the CRAZY!
Double Tree Intermission Show Chesterfield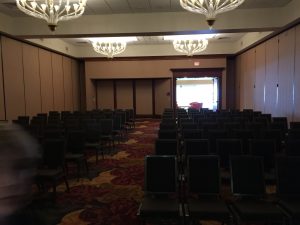 When it comes to live music, Felix and Fingers connect with their audience through fun and interactive games. We love a space that allows us to move around during our show. The Double Tree Hotel offered a newly renovated, elegant and affordable Grand Ballroom. A shout out to the amazing staff that helped us set-up in a side room section of the ballroom. If you would like more information on The Double Tree Hotel by Hilton, please click here.
To begin with, our performers split the room in half for a singing competition. Who knew ABC 123 by the Jackson Five would bring out lung busting singing competition? Everyone sounded AWESOME! Felix and Fingers brought out every trick up their sleeve during that hour fifteen. Mike and Greg bulldozed through an entire stack of request slips during that time, around 200 sheets.
A Little Bit of Everything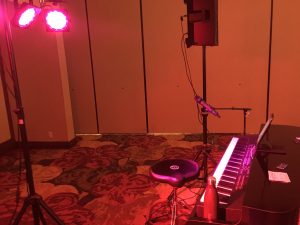 These people were nuts. At one point during the Double Tree intermission show there were 4 Conga lines. Everywhere you looked, people were weaving through chairs laughing and dancing while having a great time! In all honesty, we couldn't be HAPPIER this crowd was having a BLAST! Since everyone enjoyed the Conga so much, we figured YMCA by the Village People would be appreciated by this crowd. We were correct. It wasn't long before a straight line formed and everyone was making letters to the music. Harlem Shuffle by the originals Bob & Earl? Sure! The audience ate it all up and more! This was a high energy, great group of people to perform for.
One of the hints of a successful dueling piano is when the beach balls come out.  Not one, but TONS. It was crazy, there were beach balls everywhere! We couldn't resist kicking into Beach Boy mode with songs such as California Girls and Help Me Rhonda. It was like a beach scene, but without the sand, or the ocean..or the tropical weather. Yeah, you get our point.
Contact Us
No matter how large or small of an event you are planning, Felix and Fingers can accommodate your needs. The Double Tree intermission show was a spectacular success leaving our client HAPPY. If our client is happy, we are happy. Above all, if you'd like us perform at your next public or private occasion, send us an email to info@felixandfingers.com we'd love to hear from you. If you require additional information, visit our website by clicking here. We look forward to hearing from you soon!
{{ reviewsOverall }} / 5
Users
(0 votes)