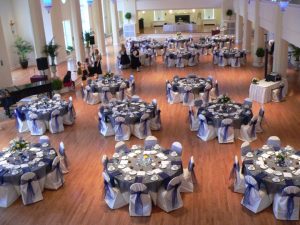 The Kimball Ballroom in Columbia, Missouri was buzzing with excitement on March 10, 2023, as Felix And Fingers Dueling Pianos took the stage for a thrilling corporate event. With its large hall, high-tech lighting, and excellent acoustics, the venue provided the perfect backdrop for an unforgettable evening of music and entertainment. Let's dive into the highlights of this incredible dueling piano event.
The Party Table and Sing-Along Fun:
As the night kicked off, one table in particular stood out – "the party table." This lively group of attendees enthusiastically sang along to every song, creating an infectious energy that filled the room. From belting out classics like "Sweet Caroline" to getting rowdy with "Friends in Low Places," the party table set the tone for an interactive and engaging experience.
Color-Changing Chandeliers:
One of the standout features of the Kimball Ballroom was its stunning color-changing chandeliers. As the dueling pianos took center stage, the chandeliers transformed into a mesmerizing shade of blue, adding a touch of magic to the atmosphere. The combination of vibrant music and the ethereal glow of the chandeliers created an enchanting ambiance that captivated the audience.
Delicious Eats and Sweet Treats:
No event is complete without delectable food, and this corporate event did not disappoint. Guests indulged in a mouthwatering buffalo chicken and artichoke dip, which left everyone craving more. For dessert, the delicious cupcakes stole the show, with flavors like coffee and strawberry delighting the taste buds. The culinary experience at Kimball Ballroom truly elevated the overall enjoyment of the evening.
Captive Audience and Recognition:
The corporate event at Kimball Ballroom was organized to recognize decades of service by a healthcare group to their employees. The dueling piano show provided the perfect entertainment for this captive audience, allowing them to relax, unwind, and truly appreciate the music. The guests were enthralled by the performances and expressed their joy and appreciation throughout the night.
Photo Booth Fun and Surprise Performances:
To add an extra element of fun, a photo booth was set up with various props, allowing attendees to capture memorable moments. Additionally, one of the coordinators surprised everyone by taking the stage to sing Envogue's "Whatta Man," showcasing hidden talents and further enhancing the entertainment value of the event.
The Felix And Fingers Dueling Pianos event at Kimball Ballroom in Columbia, Missouri was an absolute hit. From the lively sing-alongs and color-changing chandeliers to the delicious food and surprise performances, every aspect of the evening contributed to a truly unforgettable experience. If you're considering booking a dueling piano event or looking for a venue that offers a unique and captivating atmosphere, Kimball Ballroom should be at the top of your list. Contact Felix And Fingers Dueling Pianos at (800) 557-4196 to bring the magic of dueling pianos to your next event. And don't forget to share this blog post to spread the word about this incredible night of music and entertainment.
{{ reviewsOverall }} / 5
Users
(0 votes)