The Maple Grove Holiday Inn – Winter Waterland
Chicago is COLD!  I think it's currently about -5 degrees outside.  But whenever I travel to Minneapolis, I long for the sunny warmth of the windy city.  Our -5 degrees probably feels like a sauna compared to the weather up north.  This trip was no different.  Dave and I took the long drive up to the Maple Grove Holiday Inn and, despite the cold, had a great time playing for Amy and Phil's wedding!
The Maple Grove Holiday Inn isn't your typical holiday inn.  It has one major difference.  THE HUGE FREAKIN' INDOOR WATER PARK!  The Venetian Waterpark has it's home inside the hotel.  I didn't get a chance to use it.  Not only did I not bring my swim suit, but I also think it's probably strange for a solitary adult male to wait in line for a water slide for kids.  I have a dream that one day our society will accept that!  I digress….
Amy and Phil's wedding at the Maple Grove Holiday Inn was our first wedding of 2015, and I had a blast.  There were just under a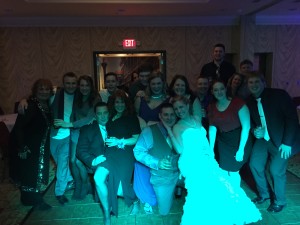 hundred people, including about 12 children.  Amy and Phil's two daughter's were just as big a part of the wedding as Amy and Phil were.  They even got the party started dancing with Amy and Phil to "Girl on Fire" just before we opened the floor to the rest of the guests.
Minneapolis isn't the only thing that's frozen…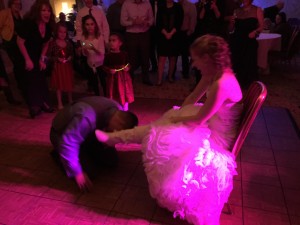 The best part about all the kids at the wedding is that we get to do an even more eclectic array of songs than usual.  We still do the typical dance songs like "Party in the USA" and "I Will Survive," but we also got to do a stirring rendition of "Let it Go" from "Frozen" and a rock and roll rendition of "Twinkle Twinkle Little Star."  (Curious as to whether or not Phil and Amy liked "Let it Go?"  Check out the video at the bottom of this post.)  One of the daughters even came up and played a drum solo on my keyboard.  It was pretty awesome.
It was pretty funny seeing Amy's transformation throughout the evening.  She is obviously a great mom and loves her kids, but it was great getting to see her and Phil let loose once the kids went to bed.  We continued to rock and roll all night long, and ended the show with some DJing.  They never stopped dancing!
Maple Grove Holiday Inn Does it All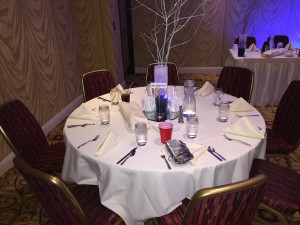 The staff at the Maple Grove Holiday Inn was top notch.  They were incredibly helpful in giving us direction when we arrived, and everyone was genuinely nice.  The food was great, and the room was great.  They were able to flip the room from the ceremony set-up to the dinner/dance setup in less than 45 minutes!  I definitely recommend checking this place out for any upcoming weddings.  If not for everything I just mentioned, do it for THE HUGE FREAKIN' INDOOR WATER PARK.  You won't be disappointed.  And if you do happen to make your arrangements with the Maple Grove Holiday Inn, don't forget to get in touch with Felix and Fingers to provide you with top notch wedding entertainment! 🙂
And don't forget to check out this video of the happy couple after the wedding:
{{ reviewsOverall }} / 5
Users
(0 votes)