This weekend, I traveled up to Little Falls, MN with Dave Radford (the original 'Felix') to perform at a wedding.  The wedding was being hosted at Hilmerson RV.  Honestly, it was the first time for me to perform at a wedding that was held in an RV showroom.  If you're scratching your head over that, it will all make sense in just a moment.
Largest Wedding Record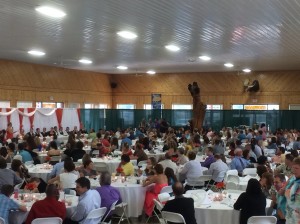 This was the largest weddings that both Dave and I had ever played for. Their were 450 guests.  Having one great room to accommodate a crowd of that size (bear in mind the additional size needed for the catering and crew to set up) was essential.  Certainly a show room that packs in several Class A RVs would be perfect – and it was! The picture you see in the background does not show even half of the tables and guests.
For sound, we brought our heavy-duty can-handle-anything gear to ensure that we were able to pump out plenty of sound and volume.  That worked out perfectly for every bit of our show.  The volume for wireless mics being moved across the entire lot for first speeches worked perfectly.  Our soft but enjoyable live jazz reception music was at a perfect volume.  Our amped-up dueling piano show gave plenty of power to play over all the fun the crowd was having.  And the volume was right where it needed to be when we DJ'd music at the end of the night as the guests continued to dance past midnight.
This was simply a BIG party.  I am a fan of limousines.  What a luxurious way to travel.  But for a big wedding party, how about an amazing RV that you could live in!  The size and luxury of the vehicle they used blew my mind. My only regret is that I did not get a picture of it.
Longest Distance Traveled (for me)
Felix and Fingers, as a company, has traveled as far South as Florida and as far west as New Mexico.  It seems that our reach is rapidly expanding, and I won't be surprised when we start working overseas or on the seas.  But for now, this show created a personal record for me.  My drive to Little Falls, MN was roughly 11 hours, which creates a driving record to a performance for me.
If I'm to be completely honest, I don't mind driving all that much.  I do it quite a bit and find it relaxing.  Also, it provides a great opportunity for me to sing along to my vocal exercise tracks and stretch my chords out.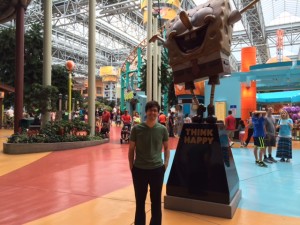 On the way home, Dave and I took a short time-out to grab some food at the Mall of America in Minneapolis. Making our way to the food court we passed a huge salt water aquarium and show-room, several roller coasters and water rides, and more stores than we could think of.  There was more food to choose from than anywhere I have ever been, but we settled on Japanese.  That short time-out was just enough to replenish some energy and get to where we needed to go.  We had left his car at a hotel in LaCrosse, WI.  After we unloaded his equipment, we stretched our legs a bit with a game of outdoor paddle ball.  Then, we continued the journey.
Where Is Your Wedding/Event?
Felix and Fingers travels far and wide.  So contact us today to give us the details of your event, and we will provide you with a free consultation and quote!
{{ reviewsOverall }} / 5
Users
(0 votes)