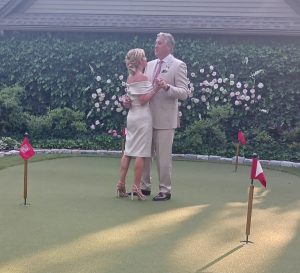 Imagine a beautiful summer evening in Birmingham, Michigan, where love is in the air and the sound of dueling pianos fills the atmosphere. This was the scene at the home where Gordon and Kristen's wedding took place. The couple decided to add a touch of musical magic to their special day by hiring the talented Chris Heroldt from Felix And Fingers Dueling Pianos. With his one-man show, Chris created an unforgettable experience for the couple and their guests.
A Blended Family Unites
As both sides of the blended family gathered on the front porch, love and excitement filled the air. Loved ones surrounded the couple, creating a heartwarming scene that brought tears to everyone's eyes. Even the neighbors couldn't resist joining in on the celebration, watching from their own porches. It was a truly touching ceremony that set the tone for the rest of the evening.
A Felix First: First Dance on the Backyard Putting Green
As the sun set and the evening unfolded, the newlyweds took to the backyard putting green for their first dance. It was a magical moment, with the soft glow of string lights and the gentle breeze adding to the romantic ambiance. Chris Heroldt's melodies filled the air, making this first dance truly unforgettable.
Perfect Weather and the Felix Vibe
The weather couldn't have been more perfect for this outdoor wedding. The warm summer evening created a relaxed and mellow atmosphere, perfectly complemented by Chris Heroldt's musical talents. Felix And Fingers Dueling Pianos have a unique ability to adjust the mood and energy of the event, ensuring that every moment is filled with joy and excitement. It's a level of versatility that sets them apart from other live music acts.
Casino Night Extravaganza
As the evening progressed, the celebration took an exciting turn with a Casino Night. The energy was high, and Felix And Fingers didn't disappoint. The music was cranked up, and the tunes filled the air, creating an electric atmosphere. Guests couldn't resist hitting the dance floor and trying their luck at the casino tables. It was a night filled with laughter, music, and unforgettable memories.
Their home provided the perfect backdrop for Gordon and Kristen's wedding, and Felix And Fingers Dueling Pianos took the celebration to new heights. From the touching ceremony on the front porch to the first dance on the backyard putting green, every moment was filled with love, joy, and incredible music. If you're considering booking a dueling piano event, look no further than Felix And Fingers. Contact them at (800) 557-4196 to create your own unforgettable experience. And don't forget to share this blog post with your friends and family to spread the magic of dueling pianos!
{{ reviewsOverall }} / 5
Users
(0 votes)