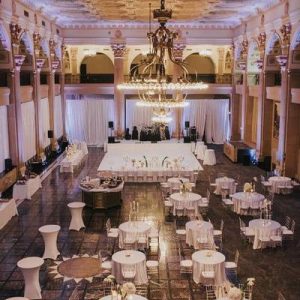 The vibrant city of New Orleans is known for its rich musical heritage, and on March 24, 2023, Capital NOLA hosted a corporate event that truly captured the essence of the city's lively spirit. The event featured the renowned Felix And Fingers Dueling Pianos, promising an unforgettable night of music, laughter, and interactive entertainment. With the beautiful Capital building as the backdrop, attendees were in for a treat as the dueling pianos took center stage.
A Night of Surprises and Requests:
The dueling pianos wasted no time in captivating the audience with their incredible talent. From the very first song, which was specially chosen by the performers, the night was filled with an electrifying energy. However, it was the audience's requests that truly set the tone for the evening. Every song played, except for the opening number, was a request, giving attendees a chance to hear their favorite tunes come to life in a unique and interactive way.
A Crowd That Couldn't Resist:
The infectious energy of the dueling pianos had the crowd on their feet, singing along and even busting out some dance moves. The performers skillfully catered to the diverse musical tastes of the attendees, ensuring that everyone had a chance to enjoy their favorite melodies. As the night progressed, some guests left, but there were a few die-hard fans who stuck around until the very end, fully immersed in the music and eager to dance the night away.
Capital NOLA's Stunning Venue:
Nestled in the heart of New Orleans, the Capital building provided the perfect backdrop for this dueling piano extravaganza. With its elegant architecture and grandeur, the venue added an extra touch of sophistication to the event. The organizers ensured that everything ran smoothly, communicating any changes promptly to the performers. Erin, the event coordinator, was particularly praised for her kind and considerate handling of the show and the players.
A Night to Remember:
As the final notes echoed through the venue, it was evident that both the performers and the audience had a blast. Chris and the rest of the Felix And Fingers team expressed their gratitude for being a part of the DPL party, highlighting the great speakers, delicious food, and the overall success of the event. The dueling pianos had truly brought the house down, leaving everyone with memories that would last a lifetime.
If you're considering hosting a dueling piano event or looking for a stunning venue in New Orleans, Capital NOLA should be at the top of your list. Contact Felix And Fingers Dueling Pianos at (800) 557-4196 to bring the magic of live music and interactive entertainment to your next event. And don't forget to share this blog post to spread the joy of Capital NOLA's dazzling dueling pianos experience.
{{ reviewsOverall }} / 5
Users
(0 votes)