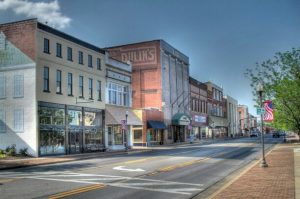 The City of Madisonville in Madisonville, Kentucky recently hosted a sensational outdoor event that had the whole town buzzing with excitement. On September 23, 2023, Felix And Fingers Dueling Pianos took center stage at the City of Madisonville venue, captivating the audience with their incredible musical talent and infectious energy. This unique dueling piano experience brought together families, friends, and music enthusiasts of all ages for a night to remember.
The event kicked off with the sound company setting up the stage, ensuring that every note and beat would be heard crystal clear. As the sun began to set, the atmosphere was filled with anticipation, and the crowd eagerly awaited the start of the show. The City of Madisonville had truly created a great community event, fostering a sense of togetherness and excitement among the attendees.
One of the standout aspects of the evening was the remarkable crowd interaction. Felix And Fingers effortlessly engaged with the audience, encouraging sing-alongs and taking requests from the enthusiastic crowd. It was heartwarming to witness the diverse age range of attendees, from 5 to 14-year-olds, confidently stepping forward and requesting their favorite songs. The joy on their faces as their chosen tunes echoed through the night was truly priceless.
The weather gods seemed to be in perfect harmony with the event, as the night was graced with a super duper perfect weather. The clear skies and gentle breeze added an extra touch of magic to the already enchanting ambiance. It was an ideal evening to gather under the stars and enjoy the melodious melodies of the dueling pianos.
Not only did the audience revel in the music, but the workers behind the scenes also found themselves thoroughly entertained. The hardworking staff of the City of Madisonville venue had the opportunity to witness firsthand the immense talent and captivating performance of Felix And Fingers. Seeing their enjoyment added an extra layer of satisfaction to the event, knowing that the entertainment reached far beyond the audience.
If you're considering hosting a dueling piano event or looking for a venue that can bring your event to life, the City of Madisonville should be at the top of your list. With its vibrant community spirit, stunning outdoor setting, and exceptional facilities, it's the perfect place to create unforgettable memories. Contact Felix And Fingers Dueling Pianos at (800) 557-4196 to discuss your event and make it a resounding success.
Share this blog post with your friends and family who are seeking a unique and engaging musical experience. Let them know that the City of Madisonville and Felix And Fingers Dueling Pianos are a match made in musical heaven, where melodies soar and hearts sing along.
{{ reviewsOverall }} / 5
Users
(0 votes)