Many hospitals depend upon successful fundraising events to continue providing valuable medical services to their communities and patients. Therefore, the Baptist Health Foundation Lexington fundraiser event helped support the renovation of the Baptist Health Lexington Breast Center. This event celebrated the prominence of Baptist Health Lexington as a strong healthcare leader in their community. In years past, Baptist Health Foundation Lexington has honored different service lines such as Women's and Children's Services, Oncology Services, Cardiac Services and Digestive Health Services. If you would like more information on Baptist Health Foundation Lexington please click here.
Each year, Baptist Health Foundation Lexington selects three honorees to receive recognition during the evening. Typically two Baptist Health Lexington employees and one community member. This year, three remarkable individuals were honored, P.G. Peeples, Sr., President/CEO, Urban League of Lexington, Walid Abou-Jaoude, MD (Dr. AJ), Chairman, Baptist Health Lexington Breast Program Committee and Kay Ross, Vice President Baptist Health Lexington, Emeritus.
Our players, Robert Deason and Mike Sherman, drove out to Lexington, Kentucky to perform a successful show at Keeneland Association Racecourse. Not only did Felix and Fingers have a BLAST at this event, but we helped raise a TON of money for a GREAT cause!
Baptist Health Foundation Lexington Fundraiser Event Kentucky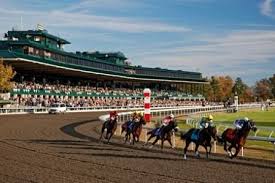 For 83 years, Keeneland Association has committed itself to the vibrancy and health of the Thoroughbred industry. Keeneland is the world's largest and most prominent Thoroughbred auction house hosting world-class racing twice annually during it's boutique Spring and Fall meetings.
This FUN fundraiser was held in the Show Barn, a space that indeed inspires and engages an immersive Kentucky experience. For one thing, this National Historic Landmark is open year-round and your guests will enjoy quintessential Kentucky settings from every angle. It's open-air concept and beautiful architecture make it a truly one-of-a-kind space. Please click here if you'd like further information on Keeneland Association.
Felix and Fingers were so fortunate to see the passion from generous people at the Baptist Health Foundation Lexington fundraiser event. Guests were made to feel special from the minute they walked through the door. Envision our dueling piano show situated in luxuriously appointed Show Barn quarters, as friendly staff greeted everyone with champagne. Robert and Mike kept guests reaching deep into their pockets to hear song requests such as Lovely Day by Bill Withers. To tell the truth, it was the PERFECT setting!
A Truly Successful Auction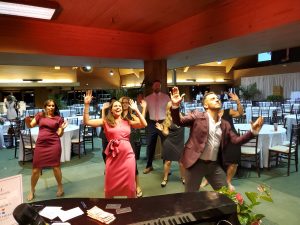 The evening boasted live entertainment from the dynamic Mike Sherman and Robert Deason of Felix and Fingers Dueling Pianos. Guests enjoyed a wide array of passed hors d'oeuvres and signature cocktails from an open bar. There were also vast selections of mouthwatering food stations. Something for everyone!
A professional Philanthropic Auctioneer, Jonathan Noel, helped make this a VERY successful auction. Furthermore, a memorable honoree presentation brought tears to many attendees eyes. The goal of this event was to raise $175,000 for the renovation of the Baptist Health Lexington Breast Center. Through the interactive bidding on live auctions, an impressive paddle raise and exciting fundraising games, the total raised was just over $185,000!
After a successful auction, Mike and Robert built everyone's excitement with their dueling piano show. We really put the FUN into the Baptist Health Foundation Lexington fundraiser event. Robert and Mike focused on the attendees' experience. Not only did it make the event enjoyable for our crowd, but it also helped raise MORE MONEY. One of the songs we played was Money by Pink Floyd. If that's not a BIG HINT we don't know what is!
When it was time to PARTY, we corralled everyone to dance and sing along to The Git Up by Blanco Brown. Our performers quickly developed a nostalgic relationship with our fans playing songs such as September by Earth, Wind & Fire. Felix and Fingers had supporters donate money with each section of the song we played. How about splitting up the room for a sing-off? Great idea! We LOVED hearing one side sing GOLD and the other side sing DIGGER by Kanye West. This was especially cool because almost everyone knew the words. Kanye would have LOVED it!
Contact Us
In conclusion, Felix and Fingers would like to thank Baptist Health Foundation Lexington for hiring us to motivate a fantastic crowd and bring in funds for a great cause. Everyone had a BLAST! We highly recommend Keeneland Association Racetrack for you next special occasion, it's such a beautiful venue. If you'd like Felix and Fingers to bring the PARTY to your next event, shoot us an email to info@felixandfingers.com. You can also click here for more information on our SUPER FUN dueling piano show. We look forward to hearing from you soon!
{{ reviewsOverall }} / 5
Users
(0 votes)