The Celebration Farm wedding event was a super fun party held in a gorgeous unique barn located in Iowa City, Iowa. There's also ample paved parking, allowing easy access for you and your guests. Whether you're going all rustic or country glamour, The Celebration Farm can set the mood like no other venue. Felix and Fingers enjoyed a very successful show at this highly recommended venue. Congratulations Emmy and Sam!
Celebration Farm Wedding Event Iowa City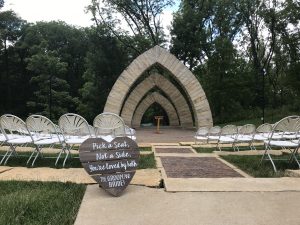 Upon arrival, Felix and Fingers saw that there were 2 barns at this gorgeous venue. One is a large, double round barn that is simply grand on all levels and the other a Timber Frame Barn (smaller in size). The Celebration Farm wedding event was held in the Timber Frame Barn which is temperature controlled and has a built in dance floor. The Celebration Farm offered a full sized kitchen with appliances, tables and chairs were provided and a HUGE deck off the back overlooked the woods. Furthermore, there was a usable loft area that allowed a perfect view of the Celebration Farm wedding event. In all honesty, it was absolutely stunning inside. If you would like a tour of The Celebration Farm please click here.
Our performers for the Celebration Farm wedding event were Greg Percifield and Jennifer Lee Knuth. To start with, our performers set up outside for the ceremony next to an amazing stone arch. The Celebration Farm offered an impressive sound system specially designed for their venue. As Emmy and Sam exchanged vows, our performers improvised famous love songs into instrumental versions. There wasn't a dry eye in the crowd when the lovebirds recessional song of A Thousand Years by Christina Perri was played.
The Celebration Farm wedding event staff went above and beyond making sure everything was perfect. But first, lets address the decor. Strings of warm Edison lights provided light in dark corners and candles in large mason jars gave a stylish look. Our performers had set back up in the barn and happily greeted everyone for cocktail hour while playing songs such as Alaska by Maggie Rogers. Speeches were short and dinner was delicious. The Celebration Farm wedding event combined both indoor and outdoor elements and it reflected in their menu. Hence, a mix of smoky flavors combined with local farm fresh veggies had staff retrieving empty dinner plates. At the dessert table, there were these special little cream cheese cookies that the bride made with her mother. They were delicious!
Old Friends and Love Games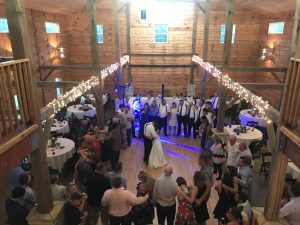 During the time when the bride would typically do a father/daughter dance, Emmy decided to split this dance with her son Austin. Our hearts melted because during the dance, her son was looking into her eyes and singing the words to his mom. Greg did a great job with the L-O-V-E game. It actually went over really well. Dueling piano requests are great, but a game like this is perfect for breaking up the monotony. Our favorite part was seeing everyone scramble to come up with ideas how to make each letter after a few drinks. Our bride even jumped in!
There was a man who never left the dance floor. He had a CRAZY abundant amount of energy. And although quite sweaty, he never tired all while putting on amazing dance moves for EVERY song. At one point, a guest dropped their glass on the dance floor and he danced while cleaning it up himself. We also accepted tips toward the lovebird's honeymoon and at one point, a guy came up and wanted us to play Baby Got Back by Sir Mix-A-Lot. Of course we had to tell him the rules. For example, he had to do the entire dance with his hands on our piano since he was the one requesting the song. We ended up getting 8 guests to come up with him and it was FUNNY. Lots of booty shaking!
Above all, our performer Jennifer met an old friend at the Celebration Farm wedding event. In fact, this friend was a cousin of the groom and she came up at the end of the night to sing a song. Felix and Fingers thought she had the most phenomenal voice. Everyone loved it! Jennifer never knew her friend could sing SO WELL and complimented her several times after the performance. By the way, did we mention the power outlets were located on beams that stretched across the barn roof? Jennifer had to actually climb 10 feet upwards for power. Spiderman would have been proud! All in all, this was a memorable night with everyone making a circle around the bride and groom as they danced. Felix and Fingers played their "Circle of Love" song Piano Man by Billy Joel as everyone swayed into the night.
Contact Us
In conclusion, Felix and Fingers had a BLAST at the Celebration Farm wedding event. We had such a great time getting to know everyone in the crowd while keeping guests happy. Many individuals came up at the end of our show telling us how much they LOVED us. That made us feel AWESOME! If you would like Felix and Fingers to perform at your next party or wedding, shoot them an email to info@felixandfingers.com or click here for more information. We look forward to hearing from you soon!
{{ reviewsOverall }} / 5
Users
(0 votes)