Felix and Fingers are always honored when our client is so EXCITED they turn their party into a "Dueling Piano" theme!  The Grundy Center Corporate Event was a Celebrate the Night in Black and White party.  Not only was the entire event themed to black and white, but everyone dressed according to the theme.  Glitz and glamour have never been more Vogue!
Grundy Center Corporate Event Iowa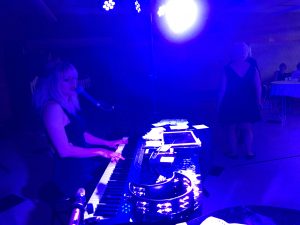 Our performers for the Grundy Center corporate event were Jennifer Lee Knuth and Jim Gritschke.  This amazing power duo goes the extra mile to put on a fabulous performance.  In fact, a great sense of humor along with crowd participation is one of their strengths.  Furthermore, this was an exciting and fancy evening held at the Grundy Community Center for a very large crowd.
The Grundy Center corporate event went an extra mile using sheet music as part of their centerpieces.  It was a way of tipping their hats towards acknowledging our presence. They nailed it!  2019 New Year celebrations spilled over into this party with sequins, tuxedos and champagne for all.  If you are interested in holding your next event at the Grundy Community Center please click here.
To begin with, Jim and Jennifer were required to give away door prizes every hour on the hour.  We turned those moments into showstoppers.  Our performer, Jennifer, played a mix of fun and bouncy songs such as Beep Beep by Louis Prima and My Sharona by The Knack.  Meanwhile, Jim described each door prize in detail with a professional sounding announcer voice.  As we played out this performance, our event contact (Rachael) held the baskets in the air and "modeled" them.  To be honest, she gave Vanna White a run for her money!  Things got a little bit out of hand with the excitement and one of the glass bottles of Coke from a basket slipped out exploding on the floor.  This brought all eyes on "Vanna" followed by tons of laughter.
Costumes and Cocktails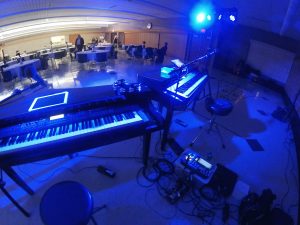 Another highlight moment of the Grundy Center corporate event was our performer Jim playing Iowa State fight songs.  For one thing, this venue was located in Grundy Center, Iowa and was attended by many alumni from the area.  Groups of guests stood for their respective schools and cheered right on cue.  Everyone had a great time!  We loved the fact the Grundy Center corporate event made black tie an option.  It was fun to have a mix of guests wearing anything from cocktail gowns and suits to one couple in a matching referee costume.  We wanted to give a "Best Dressed" award over the mic although it was too difficult to decide on just one winner.
Did someone say cocktails?  Jim and Jennifer had the dance floor packed during cocktail hour with songs such as Once in a Lifetime by Keith Urban. When it was time to serve dinner there was a amazing pasta bar.  We LOVE carbs!  There were multiple noodle options along with Alfredo and marinara sauces to choose from.  This was indeed a great idea for a low budget buffet to feed a LOT of guests.  If we weren't in such a food coma we would have gone back for more.  Above all, we gave everyone a great cardio work out with Cabbage Patch moves (to burn off those carbs!).  Jim and Jennifer performed an amazing rendition of Rhythm Nation by Janet Jackson. Everyone felt as if they were in a music video!
Contact Us
To sum up an awesome night, Felix and Fingers had a BLAST performing at the Grundy Center corporate event!  We blushed at all the compliments received on our successful show.  Everyone had a great time singing and dancing all night long.  If you'd like Felix and Fingers to perform at your next event please email us at info@felixandfingers.com or click here for more information.  We look forward to hearing from you soon!
{{ reviewsOverall }} / 5
Users
(1 vote)