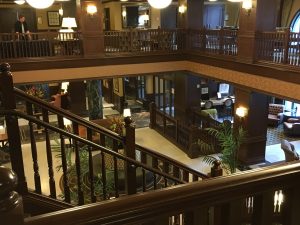 Hotel Julien boasts elegance and charm that I was not expecting to find in Dubuque Iowa.
Let me preface what I'm about to say, by stating that I have absolutely nothing against Iowa except for the way they drive in the winter.  With that out of the way, I have to be honest when I say my expectations for a luxurious wedding weren't high.  I live in western Illinois and I suppose I presumed the flat country land and Super 8s would be a part of the dominating landscape.
Even with all my experience in Iowa (I travel through Iowa all the time for weddings) luxury and elegance are not the first words that come to my mind.  My visit to Hotel Julien completely defied my expectations.
Something amazing happened immediately about 10 miles SE of Dubuque as I was driving. Suddenly the landscape was completely different than what I was accustomed to. My ears were popping and I found myself on a ridge that had a pullover area, so people could take pictures of the scenic landscape. The Mississippi has many beautiful areas with rolling hills, but this was different.  I was driving along a very steep ridge that had my palms sweating. It was beautiful! And that was just the beginning of the setting that Hotel Julien was nestled in.
Al Capone's Secret Get-Away At The Hotel Julien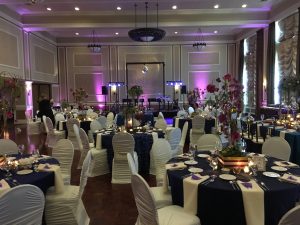 Rumor has it that when the heat was a bit too much, Al Capone would get some time away from Chicago at the Hotel Julien, complete with a secret tunnel (of course) to a nearby underground garage.
I didn't see any such tunnel, but I couldn't help but notice their parking lot had reserved spots for Tesla electric cars. There were also spots for those "other" electric cars.  I haven't seen such available parking even at the finest hotels of Chicago that I've played at.  No big deal, I suppose. Unless you consider that those electric Teslas have an average price of around $100,000!
Now my expectations had changed.  Before entering the hotel I wondered if the atmosphere might be a little… well you know… "stuffy" for country folk like myself who drive in a mini van.  That was not the case.  It's easy to forget you are in Iowa at the Hotel Julien, but the friendliness of the staff was exceptional, and that down to earth charm that you find in the midwest was not absent.  The staff was hospitable and kind and I was greeted with smiles.
Incidentally, Hotel Julien also served for the filming location of ABC's, "The Bachelor" in 2015.  This is where Chris Soules had the final rose ceremony.
Tamara Wendt Design
I have to give props to Tamara Wendt Design.  Her team transformed an already amazing venue into a wedding masterpiece. From the uplights, table and floral arrangements and furniture placement, she worked the room into wedding perfection.  It was not our first time to work with Tamara and her crew.  Felix and Fingers had worked with her before, and I was even told in advance how amazing they were.  This time, I experienced it for myself.   They were a real pleasure to be working alongside with and I highly recommend her team for anyone in the planning stages of their wedding.  Take a look at her website and you'll get a feel for the magic she creates.
So What About The Show?
You may have figured by now, that anyone who has booked such an amazing hotel with such an amazing wedding planner that the entertainment would be no exception. I hate to brag (well… maybe just a little) but we had an amazing time that night. It was a great show for a great crowd. We thoroughly enjoyed their requests all night, as their guests danced the night away.  Heck we even had a disco ball above the stage that was set up for us.
My only regret that night is that I had booked my own stay somewhere down the road. The hotel was booked solid that night, and had I made sooner arrangements, I might have been able to enjoy the comfort and elegance of the Julien Hotel a bit longer.
{{ reviewsOverall }} / 5
Users
(0 votes)