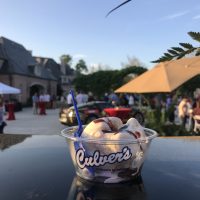 The Schmidt Peterson Indy 500 Party was one of the most fun events of the year. The venue was truly amazing and we can't wait to return. Playing for Schmidt Peterson Motorsports racing team's pre-race party was a true highlight of our performers, Jennifer and Jim's, careers. We can't say enough about how great a time this impressive event was.
Lucas Oil Estate Event Venue
Felix and Fingers has played all over the country and experienced many fine venues. Our blog is filled with information on all of the great places we love. But this venue really had our mouths agape at its splendor and perfection. Wow! Just Wow. You will find this historic property on 33 acres in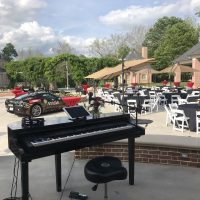 Carmel, Indiana, just north of Indianapolis. Now we've played at some mansions before, but this one truly beats them all. Forest Lucas is the owner of this impressive venue as well as of the racing team. He approached our performers and explained how the courtyard stage had a little inlay in the wall of it for former times when public speakers didn't have microphones. It helped the sound to project. We felt really special that he came up and introduced himself and hopefully, he'll have us back soon.
Forest and the Schmidt Peterson Motorsports team hosted a fabulous dinner party with top notch catering, service, and of course, entertainment from Felix and Fingers Dueling Pianos. Culvers was even there serving their delicious custard. Yum! With its gorgeous pool and pool house, outdoor courtyard stage and pavilion, and beautiful grounds; this is a dream space for any exclusive and high class event. We can't say enough about this impressive and fantastic venue. Please click here to read more about the historic Lucas Oil Estate.
Schmidt Peterson Indy 500 Party Extravaganza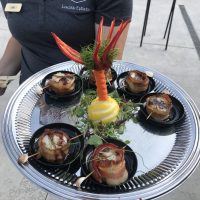 The highlight of this Schmidt Peterson Indy 500 Party, besides our entertainment, was a fascinating Q & A interview with the racing team. The CEO of Sirius XM was in attendance and facilitated this discussion. It was truly interesting hearing the drivers' stories about their growth and improvement as a racing team over the years. Since we knew nothing about this, we were totally into it and loved every minute. We even thought that it might be a tough act to follow. Not to worry, though, our performers can handle anything.
Next, it was time to party! This group wasted no time in coming up with great songs to request. Of course, since it was a pre-race event, we had a ton of car or driving themed songs. Life is a Highway by Tom Cochrane made an appearance as did Get Outta My Dreams, and Into my Car from Billy Ocean. Sammy Hagar's I Can't Drive 55 was a huge hit, as you can imagine. The song, Grease Lightening, from the movie Grease went over pretty well as did John Fogerty's Hot Rod Heart. 
It wasn't all songs of that theme, however. We played a ton of other great hits including one special request from a very special young lady. We hadn't noticed any children until towards the end of our show when we saw this little girl getting ready to leave. When we noticed her, we asked her what she would like to hear. And we were delighted to play her request of Taylor Swift's Shake It Off. We gave her our tambourine and she had a blast dancing and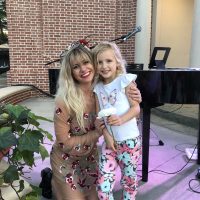 singing along.
Contact Us
The Schmidt Peterson Indy 500 Party was one of the most unique and fun events we have been to. It was a high class affair from beginning to end and we couldn't have been more impressed with the venue. Felix and Fingers Dueling Pianos is a nationwide entertainment company that performs for all sorts of events. We would love to come and show you and your guests a great time just like we did here. Please click here to find out how to contact us or go ahead and send an email to info@felixandfingers.com. We'll make sure you have all of the information you need for the time of your life.
{{ reviewsOverall }} / 5
Users
(0 votes)