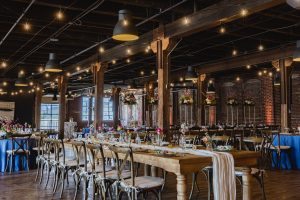 On the eve of the Big 500 in Indianapolis, the city was buzzing with excitement. And right in the shadow of the Colts' stadium, a truly unforgettable dueling piano event took place at the charming Heirloom venue. Felix And Fingers Dueling Pianos brought their electrifying performance to a corporate event hosted by McLaren sponsor, Arrow, creating a night of music, laughter, and a mullet that stole the show.
The place itself was a sight to behold, a beautifully rehabbed old building that exuded charm and character. As guests arrived, they were greeted by a couple of McLaren production cars parked outside, adding a touch of glamour to the evening. It was clear that this was going to be a night to remember.
With a chill vibe in the air, Felix And Fingers started playing as people trickled in and enjoyed their dinner. While they didn't receive a ton of requests, the compliments on their playing kept pouring in. The talented duo effortlessly set the mood, creating an atmosphere that encouraged guests to relax and enjoy the evening.
About 30 minutes before the performance came to a close, something magical happened. The crowd started to engage, singing along and even standing up at their respective tables. The infectious energy reached its peak when "Sweet Caroline" filled the room, and everyone joined in, belting out the lyrics with gusto. It was a moment of pure joy and unity, showcasing the power of music to bring people together.
Amidst the musical revelry, there was one standout character in the audience – the man with the best mullet ever seen. This mullet was not just any ordinary mullet; it was a work of art. While the performers regret not capturing a photo with this mullet maestro, they couldn't help but admire his natural ability to rock the unconventional hairstyle.
Playing for Arrow Electronics Racing Team, right after an exciting Q&A session with their driver, Felix And Fingers felt honored to be part of such a prestigious event. The evening was a mixer for corporate attendees who were gearing up for the Indy 500 the following day. The atmosphere was electric, and the performers couldn't help but feel the energy of the upcoming race.
Heirloom proved to be the perfect venue for this dueling piano extravaganza. The adjacent banquet hall, although not the grand Lucas Oil Stadium, provided an intimate setting that allowed guests to dance in their seats and truly immerse themselves in the music. The combination of great music, delicious food, and a vibrant atmosphere made for an unforgettable experience.
Felix And Fingers Dueling Pianos are known for their ability to turn any event into a fun-filled experience, and this corporate event at Heirloom was no exception. Whether it's a wedding, a cocktail party, or a corporate gathering, they have the talent and charisma to make any occasion a memorable one.
If you're looking to add a touch of excitement and entertainment to your next event, don't hesitate to contact Felix And Fingers Dueling Pianos at (800) 557-4196. Let them bring their musical magic to your gathering and create an unforgettable experience for you and your guests. And don't forget to share this blog post with your friends and colleagues, because everyone deserves a taste of the incredible night that unfolded at Heirloom.
Remember, dueling pianos are not just for weddings. They can turn any event into a night of music, mischief, and memories. Give Felix And Fingers a call and let them bring the party to you!
{{ reviewsOverall }} / 5
Users
(0 votes)
Name
Address
Website
Email
Phone
Price Range
Venue

Heirloom

Address

230 W McCarty St




Indianapolis

,

Indiana

46225-1234

Email
+1-111-111-1111