Have you ever searched for your reading glasses, just to find that you were already wearing them? Or maybe you've looked for your wallet, only to find it was in your back pocket? If you've experienced the same or a similar experience, you'll really appreciate what I'm about to tell you.
I live in a small town in Western Illinois. Population is just under 2,500. Every once in a while, an old building will go under transformation.  I always hope that it will turn out to be a great restaurant.  The idea of getting great food without having to drive an hour is exciting.  But it never turns out that way. Instead, we'll get another loan company, or find out that it is just a business that we already had, changing locations.
I haven't always lived in a small town. In fact, I went to college in Chicago and if that isn't busy enough for you, I spent several years in Osaka, Japan. I was born in Indiana. My Dad's family was from the Indianapolis area, and my Mom's from Monticello. When I was 12, we moved to Illinois. I can't even count the number of drives that I have made back in forth between Illinois and Monticello. I often wondered to myself how in the heck Indiana Beach ended up in the middle of nowhere. But it has endured many years, added many rides, and it is just as much fun for me to visit today, if not more.
I'll get straight to the point. If you have been looking for something fun, exciting, educational; if you have been looking for great food, a great location for a corporate event or wedding reception… You might be really surprised to learn that it is practically in your own backyard! That is exactly how I felt, when I discovered Fair Oaks Farms.
These days, I travel quite a bit for my job as a dueling pianist with Felix and Fingers.  When I learned that I'd be playing not too far from Monticello, I have to confess, my expectations for an amazing venue were not all that high.
Remington Seeds Picks It Right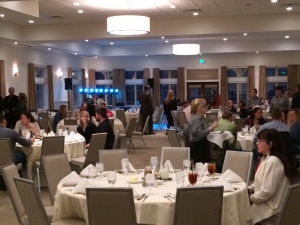 As I headed off the highway to the city of Fair Oaks, I noticed the small green census sign, which stated the population was around 1,500 (if I remember correctly.)  Whatever it was, it was smaller than the town I live in.  I thought about some of the other corporate events and weddings I had played at in similarly populated areas.  Again, my expectations were not very high, although I have to admit there have been many times that I was pleasantly surprised.
Before I even had time to spot the Dollar General store (the one thing every small town seems to have in common) I was pulling into Fair Oaks Farms.  What was this place?  It was big!  It looked brand new!  The parking lot area was enormous, and filled with cars and busses!  "What in the heck was going on here?" I though to myself.  I knew our own event was hosting about 150 people.  But what I was seeing (even in the cold December) suggested that there was much more happening here.  I would have to find out.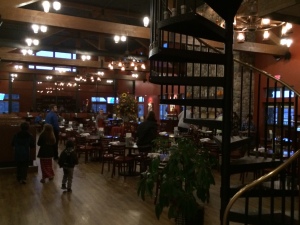 My first line of business was to set up and be ready to entertain for Remington Seeds.  We often provide corporate entertainment.  Dueling pianos provides a unique and fun alternative to the kind of entertainment that corporate parties usually provide.  We do a great job of bringing the employees together, even when we're warned that their own guests might not want to sing along.  I have to say, Remington Seeds picked it right.  Not only did they pick the right entertainment for their corporate party, but they picked an amazing venue to have it at!  Setting up and doing our sound checks took roughly an hour.  With well over an hour to spare, Jim and I were eager to take a look around this place.
Unfortunately, I was only able to see a small portion of what was available.  But it was clear that every inch of this place was designed to impress.  Even the loading dock in the back (where we brought our in our equipment) was landscaped with a small waterfall just in front of a forest backdrop.  Heck, even the bathrooms were amazing, walled with vintage props.  No matter where you went, there was something to marvel at.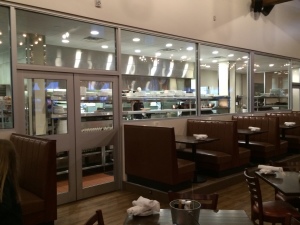 Jim was just as impressed as I was.
Down the hall from the banquet room(s) we entered a huge dining area, which contained two winding staircases on each side.  At the end of the restaurant was a bar area for those who wanted some separation from the dining crowd.  All along the side was a full-sized window so you could watch all the food preparation.
As with most of the shows we provide, dinner is usually included.  We normally provide many hours of entertainment.  A typical show might start off with background DJ'd music as people are making their way in, and then we might provide live jazz music for dinner and cocktails, and after everyone has finished eating, we provide the dueling piano portion of the show, where people sing along, dance, and may (or may not) be a part of the show in a variety of other ways that we encourage audience participation.  It's always tailored to exactly what the planner is looking for.  No two shows are ever the same, as it is an all-request show, providing the songs that your guests choose, in dueling piano style!
Somewhere in between all the action, we find time to eat.  The food was outstanding!  Really!  That means a lot coming from a guy that plays for weddings and corporate events every single week, all year.  The food here was above and beyond with presentation to taste.
This was the kind of place that I wanted to find near my town.  If only I were so lucky.  I enjoy good food and a nice atmosphere to dine in.  I often travel an hour in any direction to get the best food I can find.  But even those restaurants that I have come across in some of the larger neighboring cities, pale in comparison to what was discovered at Fair Oaks Farms.
After getting home from this show, I had a phone call with my Mom.  I had to tell her about it.  After all, she grew up in Monticell0, and still travels there to see her sister.  "Fair Oaks Farms?" she confirmed, in that 'A-duh? Don't you know?'  sort of way.  "John and I used to visit there all the time," she told me.
Apparently the building that contains the restaurant and banquet room(s) is a new addition.  So I did get the last word in, as I told my Mom all about it.  Knowing that she had been there several times to other areas of the farm, makes me want to plan a trip of my own.  I did take a look at their website, and obviously there is a lot to see and do there.  I will absolutely be making a return trip, where I can enjoy it more as a guest.  And I highly recommend Fair Oaks Farms to anyone.  It would make a great family trip from any of the surrounding states or beyond.    Just think, Fair Oaks Farms and Indiana Beach.  What a great family trip.  And you wouldn't have to take out a 2nd mortgage to have such a great time.  I guarantee when you leave (amazed at what you can find in the rural areas of Indiana) you will have a smiling face and a full stomach.  And if you have kids, they'll surely be sleeping in the backseats at the end of all the fun.
Be sure to check out Fair Oaks Farms.  And if you are looking for any kind of entertainment, be sure to check out Felix And Fingers Dueling Pianos.
{{ reviewsOverall }} / 5
Users
(0 votes)