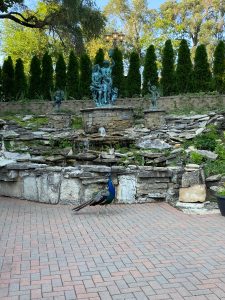 Nestled in the picturesque town of Dyer, Indiana, Meyers Castle stands as a majestic venue, known for its enchanting ambiance and stunning architecture. On the evening of August 19, 2023, the castle played host to a wedding that went beyond the ordinary. With the renowned Felix And Fingers Dueling Pianos taking center stage, the event became a melodic extravaganza that left everyone in awe.
A Venue Fit for Royalty
Meyers Castle, with its grandeur and charm, provided the perfect backdrop for this musical celebration. As guests arrived, they were greeted by the castle's iconic peacock, adding a touch of whimsy to the atmosphere. The castle's lush gardens and elegant ballroom set the stage for an unforgettable evening.
A Symphony of Sweet Treats and Nostalgia
Inside the castle, guests were treated to a delightful candy station, satisfying their sweet tooth with an array of delectable treats. And as the night wore on, late-night pizza was served, ensuring that no one would go hungry while dancing the night away.
The father of the bride added a personal touch to the festivities by creating a heartwarming slideshow of cherished memories. It was a beautiful tribute that brought both laughter and tears, reminding everyone of the love that brought them together on this special day.
A Grand Finale and a Hidden Gem
As the night reached its crescendo, the couple's love was celebrated with the biggest cake many had ever seen. Towering layers of sweetness adorned with intricate designs stole the show, leaving everyone in awe of the confectionary masterpiece.
But the surprises didn't end there. Meyers Castle had one more hidden gem up its sleeve—a cool speakeasy for cocktail hour. Guests were transported back in time as they sipped on handcrafted cocktails in a space reminiscent of the Prohibition era. It was the perfect setting for mingling and creating unforgettable memories.
The Felix And Fingers Dueling Pianos event at Meyers Castle was a symphony of joy, love, and celebration. From the enchanting venue to the delightful treats and personal touches, every aspect of the evening was carefully orchestrated to create an unforgettable experience. If you're considering hosting a dueling piano event or looking for a remarkable venue, Meyers Castle and Felix And Fingers are the perfect harmonious duo to make your dreams come true.
Contact Felix And Fingers Dueling Pianos at (800) 557-4196 to bring the magic of dueling pianos to your next event. And don't forget to share this blog post with your friends and family to spread the joy of this extraordinary night at Meyers Castle.
{{ reviewsOverall }} / 5
Users
(0 votes)