The County Line Orchard wedding event was a country glamour party like no other! Whether you're searching for a barn, or barn-like location, check out County Line Orchard located in Hobart, Indiana. Not only did this venue step up last minute to help put together an amazing celebration, but they outdid themselves. Felix and Fingers drove out to a gorgeous apple orchard to play a successful show for a fun-loving crowd. Congratulations Katherine and Eric!
County Line Orchard Wedding Event Hobart Indiana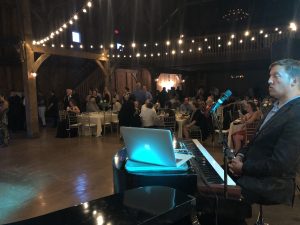 The County Line Orchard wedding event was re-booked at the last minute due to the couple's original venue burning down in a tragic fire. With a ton of patience and planning, the amazing staff at County Line Orchard pulled off a stunning reception! County Line Orchard provided rustic elegance in a full-service private barn facility. Not only does this gorgeous venue offer a blank canvas, it boasts outstanding service for your wedding, baby shower or gala affair. Furthermore, an Events Team will exceed your expectations leaving you to relax and enjoy your special day. If you would like a tour of County Line Orchard please click here.
Felix and Fingers have witnessed many trends from year to year, but one trend we see stay strong are barn weddings. From small and casual affairs to large glitzy galas, barn weddings offer amazing picture perfect backgrounds and fresh local menus. Our performers for the County Line Orchard wedding event were Robert Deason and Mike Sherman. These guys have played a ton of events and want you to know that County Line Orchard really stepped up to make this wedding happen. To begin with, the ceremony was set in a beautiful private section of the apple orchard. As a matter of fact, the summer heat was pretty intense, but the views were stunning! Katherine and Eric gave us a list of songs to play during their ceremony, our favorite being A Sky Full of Stars by Coldplay for their recessional.
Facebook Friends and 90's Music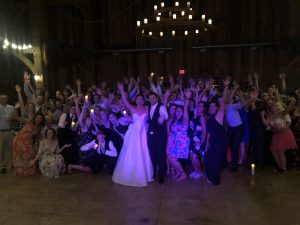 The music at your wedding is super important. Felix and Fingers made the difference between a fun wedding and an unforgettable one. Our client requested low volume during cocktail hour so our performers covered 60 minutes with smooth jazz and love songs. With drinks in hand, guests enjoyed dancing to songs such as It's Your Love by Tim McGraw and That Man by Caro Emerald. Seeing everyone enjoying their goat cheese pinwheels while singing to Sherry by Frankie Valli made us HAPPY! County Line Orchard wedding packages include tables, chairs, linens and dinnerware. This venue also catered an amazing dinner reflecting the apple orchard's charm. Therefore, farm to table apple compote adorned delicious pork chops and were served with roasted veggies bursting with flavor. Additionally, there were homemade pies and a mile long cupcake table set out for dessert. Two thumbs up for the blueberry pie!
This couple LOVED to dance and informed us they wanted the dance floor packed all night long. Robert and Mike were happy to help! The bride friended us on Facebook about a year before the big day, it was cool seeing her plans come together over social media. Katherine sent us a great playlist of songs requesting night-club volume into the night. These guys really wanted to party! 90's music was definitely a hit of the evening. When Robert and Mike hit the first notes of Ice Ice Baby by Vanilla Ice. The crowd went wild! Above all, one of the best parts of the night was the last song. We Didn't Start the Fire by Billy Joel was an appropriate tribute to the couple's unusual circumstances!
Contact Us
In conclusion, Felix and Fingers want you to know they had a BLAST at the County Line Orchard wedding event. Our client let us know several times during the night how HAPPY they were with our successful show. We had such a great time at the County Line Orchard and look forward to playing there again! If you would like to hire Felix and Fingers for your next special event shoot them an email to info@felixandfingers.com or click here for more information. We look forward to hearing from you soon!
{{ reviewsOverall }} / 5
Users
(1 vote)