Private country clubs offer lots of wonderful events for their members. The Woodstock Country Club private party was a super awesome member event. While a country club membership isn't required for everything at a country club, it does give you access to many exclusive events and activities. In fact, it's hard to find a better combination of scenery and facilities than a golf club.
Furthermore, the Woodstock Country Club's private party was a fabulous way to meet new people in the community and enjoy each other's company in a relaxed setting. If you would like to tour the Woodstock Country Club located in Woodstock, Illinois please click here.
Woodstock Country Club Private Party Illinois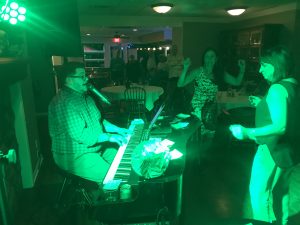 A highlight of the Woodstock Country Club private party was when the club's president, Jamie, started the show with "BOOM BOOM CLAP" from We Will Rock You by Queen. In fact, EVERYONE joined in! If that didn't get the energy flowing we didn't know what would!
Our performers for this private party were T. Duncan Parker and Jennifer Lee Knuth. This was a small country club building with a great member base so our crowd size was PERFECT for a fun loving show! Even in small spaces, we actually work very well. Felix and Finger's footprint is small, but our volume can be anything you need it to be. Everything we do comes out of our our speakers!
The Woodstock Country Club private party was an absolutely delightful group! Everyone was extremely easy going, interactive and fun! To begin with, we started out show with lots of fun requests. Jennifer's personal fave was Oh, What a Night by The Four Seasons. Everyone chatted, drank and ate all while having a BLAST! The Woodstock Country Club also prides itself on offering chef inspired meals, as they should. In all honesty, this was one of the juiciest, mouthwatering chicken dish we've enjoyed in a long time!
Overtime Benefits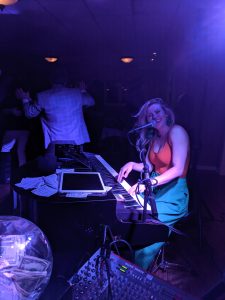 We ended up getting extended. If the party is rocking, don't hesitate to ask our performers for more play time. Any of our players can discuss the payment part and you can be the hero of the evening. Hence, the club's president was the hero at this gig!
All throughout the night there were unforgettable highlights, from discussing Jennifer's outfit as "tangerine-ish", to the club's president singing Sandy's part in You're the One That I Want from the Grease soundtrack. Believe us when we tell you everyone's phones were out recording for that one.
By the end of the night everyone was up and dancing at the Woodstock Country Club private party, including the staff! It was a packed house. Above all, our favorite part of the evening was that EVERYONE had a HUGE smile on their face. That made us HAPPY. In conclusion, one of the country club members, Lillian, loved us so much she bought our performers dessert. Duncan and Jennifer each enjoyed a GIANT ice cream sundae. They were THE BEST! Thank you Lillian!
Contact Us
Email us with any questions or inquiries to info@felixandfingers.com or click here for more information. We would be happy to answer all of your questions and set up a meeting. Felix and Fingers will bring the FUN to your next event! We look forward to hearing from you soon!
{{ reviewsOverall }} / 5
Users
(0 votes)