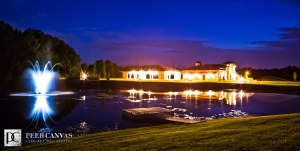 I live in small town in a rural area.  Ahhh… if only we had a winery.   I'm in love with that ambiance.  And apparently so are brides and grooms.  Let me tell you about Dry Creek Estate weddings.  Several acres away are some residential homes that have the privilege of being able to overlook such beautiful scenery.  It doesn't matter whether which direction you face, as each side of the estate reveals its own magnificence.
And while, I failed to get a picture of the actual winery, I know the bride and groom took several.  Between the ceremony and the reception party, the spent some time in the fields with the photographer.  It's a beautiful setting.
As a fairly new establishment, the structure is picturesque for a country setting yet contains state of the art features.
This location is so well-equipped that it was used for the ceremony and the reception.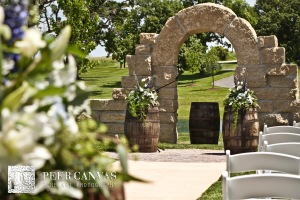 The picture on the right is where the ceremony was held.  I played a mix of classical music and modern piano as guests took there seats.
Although, earlier in the day there was a chance of rain, there was no problem, and the entire ceremony was held outside as well.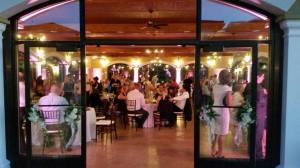 Peer Canvas took most of the photos that you see here with exception to this one right here, which shows the guests enjoying the outdoor reception area.
The outdoor reception area is fitted with an excellent sound system that flows through ceiling speakers.  Any band (but most preferably Felix and Fingers Dueling Pianos) can plug into the PA system and maintain a perfectly comfortable level of music throughout the night.
And we did just that for cocktails and dinner. However, once that was finished, it was time to liven things up, and dance the night away.
Dueling Pianos Wedding Reception Entertainment
Since we are an 'all-request' show, we play all kinds of music.  We are always sure to get the slow dancers out on the floor, too, before we throw the switch and surprise them with Shout.  They never walk away.  It's one of our tricks of the trade! 🙂
But there are several ways to enjoy Felix And Fingers, as two young girls demonstrated.  They requested that we play Fancy, as they both rapped it out to the delight of the wedding party.  They didn't miss a beat and they enjoyed as much as the crowd.
There was another guest performer that night.  A very young girl took over the keyboard and played a beautiful ballad.  It was the bride's niece if I remember correctly.  Not only did she surprise the guests with her talent, but she surprised us, as well.  This young girl had talent well beyond her years.   It was her first time to perform and she was trembling with nervousness.  But that was no distraction to the beautiful piano arrangement that she performed.  Many guests had tears in their eyes.
I highly recommend Dry Creek Estate if you are planning a wedding.  Having played hundreds of weddings at various locations, I can say that this is certainly one of the finer places you'll find.  Once you have booked your event there, be sure to contact Felix And Fingers for the entertainment!
{{ reviewsOverall }} / 5
Users
(0 votes)