Palooza Palooza! Read all about it! Couple weeks back, Fingers and I headed over to play for the second annual Parkpalooza in Pontiac, IL. This was Felix and Fingers' second appearance at the event (if you do the math, that is 100% Palooza exclusivity!) For some reason, last year's summer acted a little too much like winter, so everyone was in blankets. Thankfully, this year summer acted like summer and it was perfect!
The Crowd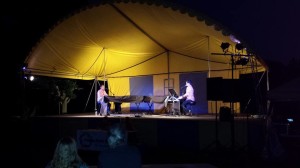 First off, the crowd was wonderful. It's always nice when you know during the first song that the crowd is really into  having a great time and rooting for you to succeed. And succeed we did! What a fun night! There's something about  playing on stage outside for a mid-summer festival. Apparently, last year some of the kids overran the stage and  outbid the adults for their requests (probably due to noise and sheer numbers). THIS year, however, we came  prepared with some ground rules. For instance, we made sure to announce we wouldn't be playing "Let It Go…." more  than ten times, AND anyone who wanted to hear Taylor Swift had to fork over their entire allowance (total subjective  standard, I know). You wouldn't think anyone would pay up, but we made a fortune! *kidding.
Thankfully, in addition to lots of awesome requests from the youth, the adults were super-involved as well. We had them singing to every classic sing-a-long they could think of, as well as some new ones we hadn't played before. We were impressed, however, to see how many kids knew the classics as well. It's been a rare experience in my time as a dueling pianist when the 10 year old girl knows all the words to songs like Crocodile Rock and Living on a Prayer.
What else can I say? The show was just tons of fun. And our hosts! Not to gush, but our hosts rocked! Totally hospitable in every way. We'll never say no to good food, friendly conversation, and an easy-going atmosphere. This show was definitely a highlight for us this summer, and we hope to be back again next year for the THIRD annual Pontiac Parkpalooza!
{{ reviewsOverall }} / 5
Users
(0 votes)