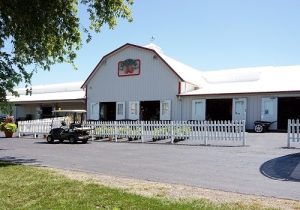 A recent dueling pianos event at Tanner Orchard in Peoria, Illinois, left guests buzzing with excitement and a sense of fulfillment. On May 6, 2023, Felix And Fingers, the renowned dueling pianos duo, took the stage at this beautiful venue to host a fundraiser for a local charity providing shelter and resources to victims of domestic violence.
As guests arrived at Tanner Orchard, they were greeted by a wall full of champagne, setting the tone for an evening of celebration and support. The atmosphere was electric, with everyone dressed to the nines, ready to enjoy an unforgettable night of music and camaraderie.
Under the starlit sky, the crowd was a vibrant mix of music enthusiasts, but it was evident that country music lovers were well-represented. The dueling pianos show catered to this preference, with the talented musicians delivering heartfelt renditions of beloved country classics.
Tanner Orchard, known for its amazing private events space, provided the perfect backdrop for this special occasion. While the venue usually functions as an apple orchard during the summer, on this night, it transformed into a haven of melodies and miracles. The staff at Tanner Orchard went above and beyond, ensuring that every guest felt welcome and comfortable.
The dueling pianos performance was mostly a sing-a-long show, with the crowd enthusiastically joining in on every chorus. However, the energy was so infectious that people couldn't resist hitting the dance floor and grooving to the music. Surprisingly, amidst the sea of country tunes, the pianists received numerous requests for 90's rap, adding an unexpected twist to the evening's repertoire.
Beyond the incredible entertainment, the event held a deeper purpose. The fundraiser aimed to provide support and resources for women who have suffered abuse, making it an awe-inspiring cause that resonated with everyone in attendance. The generosity and compassion displayed by the guests throughout the night were truly heartwarming.
If you missed this remarkable dueling pianos event at Tanner Orchard, fret not! Felix And Fingers will be returning to the venue next week for a public show, promising another night of unforgettable music and entertainment.
Are you considering hosting a dueling piano event or looking for the perfect venue? Tanner Orchard offers an exceptional space for any occasion, with its stunning surroundings and dedicated staff. Contact Felix And Fingers Dueling Pianos at (800) 557-4196 to discuss your event and make it an unforgettable experience.
Share this blog post with your friends and family to spread the word about this incredible fundraiser and the magic of dueling pianos at Tanner Orchard. Together, we can make a difference and create a world where everyone feels safe and supported.
{{ reviewsOverall }} / 5
Users
(0 votes)