This last weekend, Felix and Fingers traveled to the the iWireless center in Moline, IL to provide dueling piano entertainment at a John Deere Corporate event.
The iWireless Center is an impressive venue that regularly hosts headline music events and sporting events.  Prior to Jason Aldeen's arrival, the venue was used to host a function for John Deere, which also holds its headquarters in Moline, IL.
As you can see from the picture, we did not actually play in the main auditorium.  But we did provide great entertainment and helped raise plenty of money for their charity.
John Deere Party Raises Money to Help Abused Children
Although dueling pianos were the main entertainment, they had several other ideas that kept their guests entertained.  We had first dibs at a wonderful buffet and then kicked the night off with holiday classics and jazz while others enjoyed their dinner and drinks.  Before we began our dueling piano entertainment, they had their own group perform a parody of 12 Days of Christmas, which focused on the frustrations and humor behind a work environment that they were all too familiar with.
Later, they had taken the stage again with helium balloons and sang to "Christmas Don't Be Late" by Alvin and the Chipmunks.
John Deere Songs
In case you are wondering just what kind of music the folks at John Deere enjoy… well, we couldn't tell you.  The employees and their families attended and the range of music was so diverse that if you thought it would all be country, you'd be very wrong.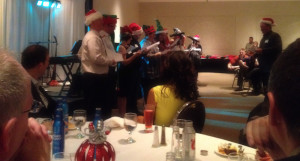 We kicked off the night in full throttle and wasted no time, getting the crowd to sing and dance.  We did this by performing some sing along favorites, but then moved directly to the requests that came in.  When a request for "Blurred Lines" arrived, James hit the dance floor and brought up an unsuspecting guest, who was more than comfortable to show some dance moves. This had the crowd cheering them on and enjoying the fact that everyone was comfortable and ready to let loose.
Another big moment of the night occurred, when a war over college fight songs began.  We had a feeling it was coming and spent time rehearsing 8 college fight songs that we suspected would be requested.  Not all 8 of those songs were requested, but the enthusiasm and money that came in to get their fight song played was high.  It's always fun to impress a crowd having them wonder, "How the heck did they know how to play that?"
We did not let the night slip away without playing "Big Green Tractor,"  which will likely be sung by Jason Aldeen himself, when he appears there in January.  There were a few other songs that paid tribute to John Deere.  Can you guess what they are?  Let us know in the comments area!
The Party That Kept On Going… Well, Almost
The last half hour of the night, we DJ'd music, as we had been requested to.  This gave us an opportunity to play some of the songs that we did not have time to get to, or simply whatever people felt like hearing.  And while it was during that last half hour that people began their way home, there were still plenty of guests who remained.
Jim and I, got a surprise of our own, when one guest took the stage to dance and lip-sync to a song she loved. So that she did not feel alone on stage, Jim danced with her and then helped her up.  In all fairness, we asked her and her husband if we could post this video, the opinions first bounced around between yes and no.  But in the end, "Yeah, it's ok" was the resounding answer.
We were there to have fun, and there is nothing wrong with that! Thank you for enjoying the night with us!
{{ reviewsOverall }} / 5
Users
(0 votes)