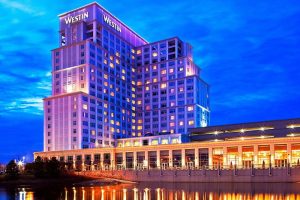 The Westin Lombard Yorktown Center in Lombard, Illinois recently played host to a truly unforgettable event – a wedding filled with the electrifying sounds of Felix And Fingers Dueling Pianos. This unique and lively entertainment experience had guests on their feet, singing along, and dancing the night away. Let's dive into the highlights of this extraordinary evening and discover why The Westin Lombard Yorktown Center is the perfect venue for a dueling piano extravaganza!
The Venue: A Perfect Setting for Fun and Entertainment
The Westin Lombard Yorktown Center, nestled near a picturesque pond and surrounded by cozy fire pits, provided an enchanting backdrop for this joyous occasion. The venue's scenic location set the stage for a night filled with laughter, music, and celebration. With its convenient connection to the hotel, guests had easy access to their rooms, ensuring a seamless and stress-free experience.
The Food: A Culinary Delight
One cannot talk about an exceptional event without mentioning the delectable cuisine. The Westin Lombard Yorktown Center's culinary team outdid themselves, serving up a feast that left taste buds tingling with delight. From perfectly cooked chicken to the mouthwatering roasted red pepper bisque, every dish was a testament to the venue's commitment to excellence. The combination of great music and fantastic food made for an unforgettable evening.
The Staff: Going Above and Beyond
The staff at The Westin Lombard Yorktown Center truly shone, ensuring that every aspect of the event ran smoothly. With multiple lines of communication, they effortlessly coordinated the evening's festivities, leaving guests free to immerse themselves in the joyous atmosphere. Their professionalism and dedication added an extra layer of magic to the already incredible night.
The Guests: A Spirited Celebration
It's no secret that the success of any event lies in the energy and enthusiasm of its guests, and this wedding was no exception. The crowd was an absolute blast, reveling in the infectious energy of the dueling pianos. As the night progressed, the guests couldn't get enough, eagerly requesting one more song even after the event had officially ended. Their enthusiasm and joy were contagious, creating an atmosphere of pure celebration.
Book Your Own Dueling Piano Extravaganza!
If you're looking to create an unforgettable event, consider hosting a dueling piano experience at The Westin Lombard Yorktown Center. With its stunning location, delectable cuisine, exceptional staff, and vibrant atmosphere, this venue is the perfect choice for a night of musical magic. Contact Felix And Fingers Dueling Pianos at (800) 557-4196 to bring the excitement and joy of dueling pianos to your next event. And don't forget to share this blog post with your friends and family to spread the word about this incredible experience!
Remember, when it comes to creating memories that last a lifetime, The Westin Lombard Yorktown Center and Felix And Fingers Dueling Pianos are a winning combination.
{{ reviewsOverall }} / 5
Users
(0 votes)