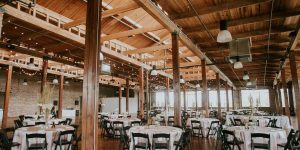 The Biltwell Event Center in Indianapolis, Illinois was buzzing with excitement on March 3, 2023, as Felix And Fingers Dueling Pianos took the stage for a memorable fundraising event. With their unique blend of musical talent and interactive entertainment, the duo created an unforgettable evening for all attendees. Let's dive into the highlights of this incredible night!
The Perfect Venue
The Biltwell Event Center proved to be an ideal location for this dueling pianos extravaganza. The client's meticulous planning ensured that Felix And Fingers had everything they needed, from designated areas for changing and dining to easily accessible bathrooms. The venue's attention to detail set the stage for a seamless and enjoyable experience.
Musical Magic Unleashed
As guests arrived, they were treated to an instrumental cocktail hour that set the mood for the evening. But this wasn't just any ordinary cocktail hour – Felix And Fingers surprised everyone by incorporating a saxophone performance, adding a touch of jazz and soul to the atmosphere. The crowd was captivated from the very beginning.
Throughout the night, the dance floor remained packed, thanks to Felix And Fingers' ability to keep the energy high and the music flowing. Despite not receiving many requests, the duo's repertoire of non-average songs kept the audience engaged and excited. From classics like "Brown Eyed Girl" and "Sweet Caroline" to unexpected surprises like a Nicki Minaj hit, Felix And Fingers delivered an eclectic mix that pleased everyone.
The Angel Gala fund, dedicated to supporting organ recipients and their families, was the beneficiary of this incredible event. All the tip money raised from playing everyone's favorite requests went directly to the Angel Fund, making the night even more meaningful.
Unforgettable Entertainment
One of the standout features of the evening was the presence of enthusiastic dancers, grooving to their favorite 90's tunes. The lively atmosphere created by Felix And Fingers' music encouraged guests to let loose and enjoy themselves. It was a night filled with laughter, joy, and unforgettable memories.
The Felix And Fingers Dueling Pianos event at the Biltwell Event Center was a resounding success. With their exceptional musical talent and engaging performances, the duo kept the crowd entertained from start to finish. The venue's impeccable organization and amenities ensured a smooth and enjoyable experience for all attendees.
If you're considering hosting a dueling piano event or looking for a venue that can bring your event to life, look no further than the Biltwell Event Center. Contact Felix And Fingers Dueling Pianos at (800) 557-4196 to bring the magic of live music and interactive entertainment to your next gathering.
Remember to share this blog post with your friends and colleagues to spread the word about this incredible event and support the Angel Fund. Let's keep the music playing and make a difference together!
{{ reviewsOverall }} / 5
Users
(0 votes)