Not long ago, I played for a wedding at Riverside Receptions in Geneva, IL.  It was not my typical dueling piano gig.  Primarily, because there were no dueling pianos.  Ah!  Here is a perfect opportunity to speak of our flexibility as a dueling piano company.  Granted, I have titled my blog about Riverside Receptions, which I will talk about.  But let me continue my train of thought, beforehand.
As a dueling piano company, we are unique in that we have several areas of training.  Obviously we are all trained pianists.  What this means for those who are interested in hiring us, is that if they just want classical live piano music for a ceremony, or only live jazz piano music for cocktails and dinner… well, we can do that!
That's not all.  At this particular wedding (after I had provided the piano music for the ceremony,) I packed up to leave, while a DJ began setting up for the reception.  Guess what?  We DJ too!  And we do an excellent job.  We know what songs to play, we keep people dancing on the floor, and we have an incredible sound system to deliver the music.
Sometimes, I wonder why someone would hire a pianist, a DJ, and an emcee, when we can do all of that.  And we do it well!  Save some money! (that's a link to our contact form.)
Alrighty then… now that I've gotten that out of my system…
Fox River Wedding Venue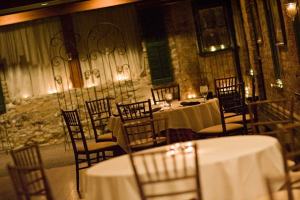 It was a particularly muggy day, with a bit of showers here and there and a lot of sunlight.  I was glad to be inside for the wedding ceremony.  Even so, the entire backdrop was structured with huge windows from floor to ceiling.  And the river must have been no more than 20 feet away.  It was an incredible backdrop, and the bride would not have to worry about bugs, humidity or any other elements that can make an outdoor wedding challenging.  This was a beautiful setting.
Further inside Riverside Receptions, was the dining, dancing and bar area.  And while I did not get a thorough look, I saw enough to know that this building was made for weddings.  It was built to impress, and it is certainly a venue that I would recommend to anyone in the area. Even the outdoor area boasts a historic charm that (as I said earlier) is right on the river.  Stunning!
A Marathon Pianist
That would be me.  Some days are marathons.  Everyone in our company has them from time to time.  This was not a marathon in the sense of travel time.  This was a marathon in the sense of fitting 3 events into the same day.  Kudos to Mike and his better half (Jessica) for being able to maneuver events and players so that nothing is ever missed.  This particular day started off with the ceremony-only performance.  It was great I played classical music as people were seated, and during the ceremony, I played to modern piano songs for which they had guest singers.  After that event, I traveled to the next stop (which I'll save for a separate blog.)  There I performed a short dueling piano act for a community event.  I wrapped up the night by heading into Chicago for a public show that went from 10:30 pm to 1:30 am.
Every show was a blast.  Every show always is a blast!  No matter what your event is, we can bring a lot of fun to it.  So be sure to fill out our short contact form, and we'll be in touch very soon!
{{ reviewsOverall }} / 5
Users
(0 votes)