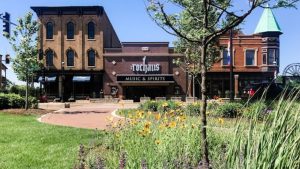 On February 25, 2023, Rochaus Events in Dundee, Illinois, played host to a truly unforgettable wedding reception. The bride and groom, who had tied the knot in Las Vegas a month prior, chose this local concert venue to celebrate their special day with family and friends. With the help of Felix And Fingers Dueling Pianos, the night was filled with music, laughter, and non-stop entertainment.
A Unique Start to the Evening
The bride and groom wanted to make a grand entrance, so they stayed hidden for the first 30 minutes while guests mingled and enjoyed refreshing drinks. As anticipation built, the couple surprised everyone by entering the room alongside a captivating slide show showcasing their Las Vegas wedding. To add a personal touch, their parents delivered heartfelt speeches, setting the stage for an evening of love and celebration.
Music Takes Center Stage
Once the formalities were over, it was time for the dueling pianos to take the spotlight. Felix And Fingers delighted the crowd with their incredible talent and infectious energy. As guests indulged in mouthwatering heavy appetizers, including mini burger sandwiches and more, the music began to fill the air. The lively atmosphere quickly transformed as people started singing along, unable to resist the irresistible tunes.
The Great Balls of Fire Experience
The couple had opted for the "Great Balls of Fire" package, which included drums and uplights, enhancing the overall ambiance of the event. This package also allowed them to choose their two talented pianists, ensuring a personalized and unforgettable performance. Felix And Fingers delivered on every song request, showcasing their versatility and ability to cater to diverse musical tastes.
A Night of Fun and Nostalgia
The evening was a blast from start to finish. The bride and groom had impeccable taste in music, and their selections from the '90s and early 2000s rock era had everyone on their feet. The dance floor was never empty as guests sang along and danced to their favorite hits. The night also took a groovy turn with '70s disco music, creating a nostalgic atmosphere that had everyone reminiscing and enjoying the timeless classics.
The Felix And Fingers Dueling Pianos event at Rochaus Events was a resounding success. The combination of an incredible venue, enthusiastic guests, and the musical prowess of the pianists made for an unforgettable wedding celebration. If you're considering hosting a dueling piano event or looking for a fantastic venue like Rochaus Events, don't hesitate to contact Felix And Fingers Dueling Pianos at (800) 557-4196. Share this blog post with your friends and family to spread the word about this incredible experience. Get ready to create memories that will last a lifetime!
{{ reviewsOverall }} / 5
Users
(0 votes)