Felix and Fingers are a blessing (or can be). The Blessing Barn is a blessing. D'Anadrea Banquets is a blessing. With that much blessing going around, count yourself blessed just by reading this 🙂 Felix and Fingers had the pleasure of playing a fundraiser event for "The Blessing Barn," Crystal Lake IL's local charity organization that provides free resources to families in need (which they store in a barn). As always, it never hurts when you host a charity event in a wonderful room. We've played at D'Andrea Banquets on numerous occasions, and it's always a pleasure. The room is beautiful, spacious, and great for fundraisers/weddings/corporate events. Perfect for dueling pianos.
A word on fundraisers.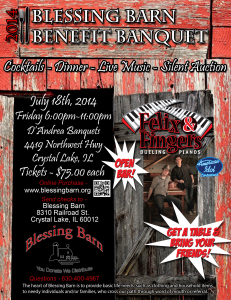 Fundraisers and corporate events are always interesting when it comes to starting the actual dueling pianos portion of the evening. At a wedding, everything is a bit more uniform. everyone is coming together who may or may not know each other well enough to feel comfortable dancing right away. That, and there's no real expectation to dance. Who knows? Maybe last year the entertainment was a comedian or some kind of hypnotist. In other words, the standard protocol or expectation for how to be engaged or involved in the evening can be somewhat blurry. We do our best to solve that problem right away with high energy songs, inviting people on the dance floor, or, at the very least, getting the audience to clap and sing along. But what happens when that doesn't work?
We typically don't break out The Cupid Shuffle until later in the evening when everyone has loosened up a bit, but ever once in a while you have to change it up. Thankfully, D'Andrea Banquets had a huge dance floor to make this work. We started the song, Mike ran out past the dance floor (because there was no one on it), and right up to folks sitting at their tables. He started calling out for everyone to join him on the dance floor for the Cupid Shuffle, not really taking no for an answer, and wouldn't you know it? By the end of the song, the floor was absolutely packed. Hoorah! Once the floor has been packed once, people now have an expectation for the rest of the evening. They know the dance floor isn't just there to be looked at. The rest of the evening was awesome. Everyone had a great time and kept on coming up to us afterward to say how much they enjoyed the show.
Brides Welcome at Events
It just so happened that one of our future brides happened to be at the event, as she received an invitation unbeknownst to us. That got us thinking though. We would love for prospective brides to be able to come out to these events to get a clear idea of what our show is like. SO, if that's you, send us an email and let us know you're interested!
{{ reviewsOverall }} / 5
Users
(0 votes)