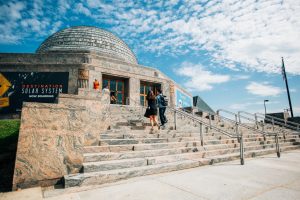 On September 28, 2023, the Adler Planetarium in Chicago, Illinois, was transformed into a lively and musical extravaganza as Felix And Fingers Dueling Pianos hosted a fundraiser for the Crohn's and Colitis Foundation. With a stunning view of the Chicago skyline, delicious food, and the electrifying sounds of dueling pianos, this event was a night to remember. Let's dive into the details and relive the excitement!
Setting the Stage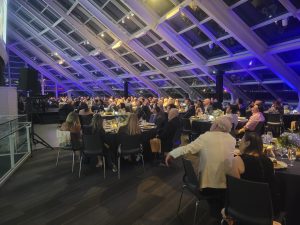 The Adler Planetarium provided the perfect backdrop for this charitable event. The spacious venue allowed guests to mingle and enjoy the stunning views of the Chicago skyline. With its state-of-the-art facilities and excellent acoustics, the Adler Planetarium proved to be an ideal choice for an evening of music, laughter, and fundraising.
A Night to Remember
The event kicked off with a cocktail hour, where guests were treated to a delectable array of appetizers and drinks. The spacious cocktail area provided ample room for everyone to socialize and enjoy the lively atmosphere. As the evening progressed, the live music accompanied the exciting auction, adding an extra layer of entertainment to the bidding process.
During dinner, guests were treated to a breathtaking view of the Chicago skyline. The combination of delicious food and a stunning backdrop made for an unforgettable dining experience. The chicken and steak dishes, accompanied by roasted veggies and mashed yams, left everyone's taste buds satisfied and craving for more.
The Dueling Pianos Finale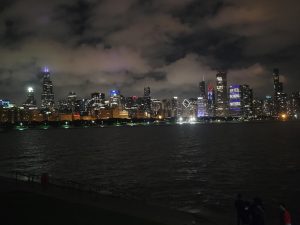 As the night progressed, the highlight of the evening arrived – the dueling pianos performance by Felix And Fingers. The beautiful location provided ample space for the lively dueling pianos show, with the sound resonating throughout the venue. The talented musicians engaged the audience with their energetic performances, taking song requests and creating an electric atmosphere that had everyone on their feet, singing and dancing along.
The fundraiser was a resounding success, surpassing its initial goal by over $10,000, thanks to the efforts of the dedicated host, Keith, and the generous contributions from attendees. The staff at Adler Planetarium played a crucial role in ensuring a seamless event, assisting with the load-in and making sure everything ran smoothly.
The Felix And Fingers Dueling Pianos event at Adler Planetarium was a night filled with music, laughter, and philanthropy. The stunning venue, delicious food, and electrifying performances created an unforgettable experience for all who attended. If you're considering hosting a dueling piano event or looking for a remarkable venue in Chicago, Adler Planetarium should be at the top of your list. Contact Felix And Fingers Dueling Pianos at (800) 557-4196 to bring the magic of dueling pianos to your next event. Don't forget to share this blog post with your friends and family to spread the excitement!
{{ reviewsOverall }} / 5
Users
(0 votes)