Our Sweet Home Chicago (Blues Brothers) Bottom Lounge Wedding Celebration was one unique affair. Representing this fun night were our very own Katrina Nilsen and Michael Sherman. Felix brought singing, dancing, and FUN to this special celebration.
Bottom Lounge Wedding Celebration Chicago, Illinois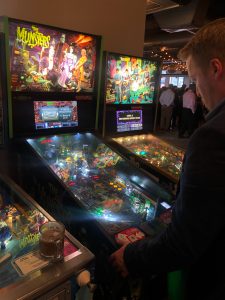 Felix and Fingers Dueling Pianos had an amazing time celebrating Carly and Marty on their special day. To begin with, this venue is as industrial as it's romantic. In fact, this two story building is a sophisticated, creative, and versatile space with a cool, artistic feel.
Setting up on the first floor was a breeze. The staff was great and Felix even had an AV tech keeping us sounding awesome. Thank you! Bottom Lounge's downstairs offers a bar, restaurant and room for 700 guests. This venue also boasts a live music arena. Bottom Lounge actually hosts around 200 live concerts per year!
Since this is an underground lounge, the surroundings are amazing. Would you believe this was once a 1927 industrial metal factory? This venue has also been home to a Taxi Repair shop. So you can only imagine the surroundings. So COOL. With 5,000 square feet available, your guests will have plenty of room to dance and sing. Above all, there's a rooftop deck with a bar that will impress even the most difficult to impress. Bottom Lounge Wedding Celebration guests enjoyed a custom beverage on the outdoor patio. Bottom Lounge's cocktail stirrers had the mascots dog face on their stirrers. So cute! We loved the pinball machines. Nice touch. If you'd like to take a tour of Bottom Lounge, please click here.
Tons of Great Requests and Sing-Alongs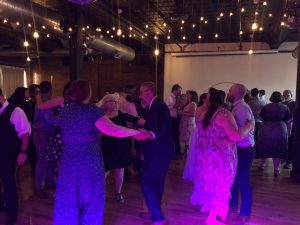 Katrina and Michael received so many great song requests on their pianos. They were so excited to perform for this great crowd. We found out on a whim our crowd were Jonas Brothers fans. So much that we played Sucker for them. From there is was a free for all. Everyone was jockeying for a spot on the dance floor. Felix kept the dance floor PACKED all night. Our audience loved to sing. We played a ton of Jonas Brothers songs as everyone knew the lyrics.
Runaway and Only Human were definitely hits of the night. With a full tip jar we then burned into a mash up with The All American Rejects. We couldn't resist playing The Last Song by The All American Rejects, for our last song! The crowd had a blast dancing and singing the night away. Katrina and Michael had the time of their life performing at their Bottom Lounge Wedding Celebration. Everyone was so nice to us; thank you for making us feel like family!
Contact Us
If you loved what you read, and are searching for an awesome dueling piano show, please click here. Otherwise, shoot us an email at info@felixandfeligers.com and someone happy will help you arrange your special day. Felix and Fingers wish Carly and Marty a lifetime of love and happiness!
{{ reviewsOverall }} / 5
Users
(0 votes)