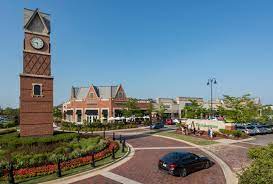 The South Barrington Arboretum in Barrington, Illinois, recently hosted a lively and unforgettable dueling piano event featuring the talented duo, Felix And Fingers. The event, part of the Music at The Arb concert series, brought together music enthusiasts of all ages for an afternoon of toe-tapping tunes and sing-along favorites. With the picturesque arboretum as the backdrop and the infectious energy of Felix And Fingers, this event was a true crowd-pleaser.
A Musical Extravaganza in Nature's Embrace
As the sun shone brightly overhead, people gathered at the South Barrington Arboretum with lawn chairs and snacks in hand, ready to enjoy an afternoon of live music. The lush green surroundings of the arboretum provided the perfect setting for this outdoor concert. The stage, adorned with a tent covering, allowed the performers, Katrina and her partner, to have a panoramic view of the entire lawn.
A Melodic Medley for All Tastes
From the moment Felix And Fingers took the stage, the crowd was captivated by their musical prowess. Requests poured in from all directions, ranging from beloved children's favorites to timeless classics by Elvis and Buddy Holly. The duo effortlessly transitioned from one song to another, ensuring that everyone's musical tastes were catered to.
The atmosphere was electric as the audience joined in for their favorite sing-alongs, belting out tunes like "Sweet Caroline" and "Living on A Prayer." However, it was the rendition of "Peaches" by Jack Black that truly stole the show, becoming an instant hit with the younger members of the crowd.
The South Barrington Arboretum – A Venue Like No Other
The South Barrington Arboretum, a sprawling restaurant and entertainment center, proved to be the perfect host for this dueling piano event. Known for its Sunday concert schedule during the summer, the arboretum has been a hub of musical entertainment for years. With its picturesque surroundings and ample space, it provided a welcoming and vibrant atmosphere for the event.
The exceptional crew at the South Barrington Arboretum ensured that everything ran smoothly, accommodating the approximately 100 attendees who gathered on the lawn throughout the event. Their dedication and professionalism added an extra layer of enjoyment to the already memorable experience.
The Felix And Fingers Dueling Pianos event at the South Barrington Arboretum was a resounding success, leaving attendees with lasting memories of an afternoon filled with music, laughter, and community spirit. Whether you're considering booking a dueling piano event or looking for a unique venue for your next gathering, the South Barrington Arboretum offers an unparalleled experience.
To bring the magic of Felix And Fingers Dueling Pianos to your own event, don't hesitate to contact them at (800) 557-4196. And if you've enjoyed reading about this incredible event, be sure to share this blog post with your friends and family, spreading the joy of music and entertainment.
{{ reviewsOverall }} / 5
Users
(0 votes)