One of my favorite things about being a dueling pianist is that we never put on the same show twice- it's all requests!  Another one of my favorite things is playing weddings, because it's really special to me to get to be part of someone's very important day.  Recently, Robert and I got to go back to one of our favorite venues (The Onion Pub in Lake Barrington, IL) to play a wedding for a bride and groom involved in an improv group!  If unique shows and weddings are my favorite, this one took the (wedding) cake. 🙂
The Onion Pub
One of the reasons I'm always excited to go back to the Onion Pub is because they really know what they're doing.  The staff there hosts weddings and special events regularly, and they a rare mixture of hyper-organized and super-relaxed.  The Onion Pub Great Hall overlooks a scenic pond, and there are two bars available for use within the room (this time they used the smaller one for a dessert table which I thought was adorable!)  Working with a staff which hosts major events so often is so refreshing… they made sure everything ran smoothly which made it easy for us to do the same!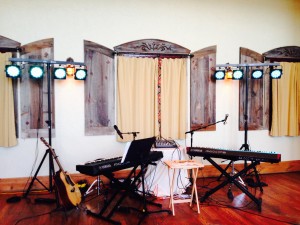 Playin' it by Ear
We never know what kind of crowd we'll be playing for, which is why taking requests is so important to us.  The quickest way to figure out how to please your audience is to let them literally tell you what they want to hear!  In this case, most of our bride and groom's closest friends were all in an improv group together, so before we even had any requests we KNEW this would be a fun crowd!  Sometimes we like to play little games at weddings anyway to have a little fun with everyone, but they came to US before we even started asking if they could sing some Queen together and let loose.  It was among the most epic sing-a-longs I've ever seen, immediately followed by us inventing a song about dinosaurs for a friend by the nickname of "T-Rex."  I meant it when I said every show is different, but this one was packed full of unique moments!  Getting friends and family involved in the show is one of the best things about a wedding… of course it varies every time, but who doesn't love seeing someone they love get up and take an active role in their special day?!
This was a memorable one.  It's great to see such great friends all get together to celebrate two of their own, and you could really feel the love in the room… from the interpretive dancing to the dare-like piano requests.  It was a great way to start wedding season, and I can't wait for the next one!
For more information on the Onion Pub, visit their website.  To book Felix and Fingers for your next event, visit our website!
{{ reviewsOverall }} / 5
Users
(0 votes)