The 4th of July Barrington Parade
It's become a tradition for Felix and Fingers to play in the Barrington Parade.  We just played in it for the 4th year in a row, and it's always one of the shows I look forward to the most.  The parade is probably the easiest way to interact with the most people, since we just come to you!
There were two particularly awesome things about this year's Barrington Parade.  The first was that it was on a Saturday.  It had more people than I'd ever seen before since.  They should put the 4th of July on a Saturday every year!  From the moment we started until the moment we finished, the parade route was packed with Barrington residents, including screaming kids and patient parents.  Everyone was singing along to our songs!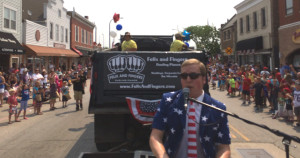 The second awesome thing started a few months ago.  Mike Potts, who plays the parade with me, called me up.  He said, "I just found a website with amazing American Flag style suits."  I said, "You had me at website."  We tossed around the idea of buying the suits, knowing full well we'd wear them exactly one time a year.  We kept procrastinating and finally a week before the parade we decided to buy them.  Only then, we noticed there was a "short suit" version, complete with short shorts and short sleeved jacked.  If you know anything about Felix and Fingers, you know that we take ourselves VERY seriously.  We immediately bought them.  The folks at Shinesty sure know how to make a guy look good!
The morning of the parade, we walked up to each other, decked out in our awesome suits, and knew we'd made the right decision.  The Barrington Parade wouldn't know what hit it.  See the photos and you'll agree that we are amazing businessmen.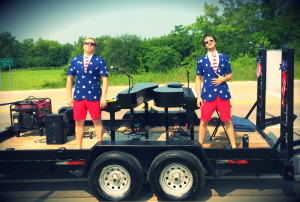 Barrington was celebrating 150 years at the parade this year, so we were put in the section of the parade dedicated to the 1980s and 1990s, two of our favorite decades.  We kept the crown going with awesome sing-along songs like "Don't Stop Believing" and "Livin' on a Prayer" from the 80s, and "One Week" and "All Star" from the 90's.  We also cheated and snuck in a little bit of Nicki Minaj's "Anaconda," but to be fair, we mashed it up with the 90's hit "Baby Got Back."
We usually get people coming up to us afterwards and telling us how great we were, but at this yeas Barrington Parade, I couldn't walk anywhere without being bombarded with high fives!  The hilarious suits we had one made us hard to forget.
The 4th of July is one of our favorite holidays.  We get to perform great music while celebrating this great country.  We specialize in all types of events, including weddings, corporate party's, and other private shows.  If you'd like the best entertainment you can get, reach out to us today.  If you say you saw us in the Barrington Parade, we'll knock $100 off of your quote! We can't wait to help making your next event a huge success!
{{ reviewsOverall }} / 5
Users
(0 votes)