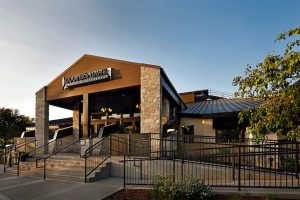 Cooper's Hawk in Arlington Heights, Illinois, recently played host to a truly unforgettable evening of music and celebration. On July 29, 2023, Felix And Fingers Dueling Pianos took the stage at this renowned venue to commemorate the 50th wedding anniversary of Darlene and Dan. The atmosphere was electric, the music was sensational, and the memories created that night will be cherished for a lifetime.
The Barrel Room at Cooper's Hawk provided the perfect backdrop for this intimate yet lively event. As guests entered, they were greeted by a slideshow showcasing the beautiful memories Darlene and Dan had created throughout their five decades of love. The room exuded a warm and inviting ambiance, reminiscent of a cozy wine cellar in France. It was the ideal setting for an evening filled with nostalgia and joy.
The dueling pianos performance by Felix And Fingers was nothing short of extraordinary. The talented pianists, John and Richard, effortlessly transported the audience back in time with their renditions of classic tunes from the 70s and 80s. From Richard Marx to Bruce Springsteen, Rod Stewart to Michael Bublé, every song was a hit that had the crowd singing along and tapping their feet.
The evening had a relaxed and laid-back vibe, with the music serving as the perfect backdrop for dinner and conversation. As the night progressed, requests from the guests were low, but Felix And Fingers made sure to play every song that was asked for. The couple was moved by the pianists' dedication to honoring their requests, and it added an extra layer of personalization to the event.
Towards the end of the night, Felix And Fingers treated everyone to a medley of four different love songs. The dance floor quickly filled up as couples swayed and twirled, lost in the magic of the music. It was a heartwarming sight and a beautiful way to conclude the evening before bidding farewell to the happy couple.
Cooper's Hawk proved to be the perfect venue for this special occasion. Not only did it provide a stunning setting, but the staff ensured that everything ran smoothly. The clients were overjoyed with the outcome of their anniversary party, and their happiness was palpable throughout the night.
If you're considering hosting a dueling piano event or any special occasion, look no further than Cooper's Hawk. With its charming ambiance, exceptional service, and the incredible talent of Felix And Fingers Dueling Pianos, your event is sure to be an unforgettable experience.
To book your own dueling piano event at Cooper's Hawk or to learn more about Felix And Fingers Dueling Pianos, contact them at (800) 557-4196. And don't forget to share this blog post with your friends and family to spread the word about this incredible celebration of love and music.
{{ reviewsOverall }} / 5
Users
(0 votes)