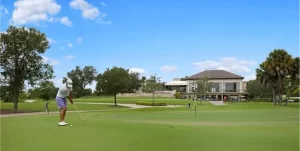 Welcome to the Mayacoo Lakes Country Club in West Palm Beach, Florida, where on November 11, 2023, Felix And Fingers Dueling Pianos hosted an unforgettable birthday party! The event was a roaring success, with the audience actively requesting songs, filling the dance floor, and taking part in lively sing-alongs. Let's dive into the highlights of this incredible evening and discover why Mayacoo Lakes Country Club is the perfect venue for a dueling piano extravaganza.
The Ultimate Party Experience
The Mayacoo Lakes Country Club provided the perfect backdrop for this dueling piano extravaganza. With its stunning Clubhouse and easy load-in and load-out process, the venue set the stage for an unforgettable night. The event staff and the lady who booked the party were incredibly accommodating, ensuring a seamless experience for all involved.
A Surprise Like No Other
The birthday girl, Denise, was in for a treat as Felix And Fingers surprised her with an hour of instrumental music. Surrounded by friends, family, and loved ones she hadn't seen in a while, the atmosphere was electric. The genuine surprise and joy on Denise's face made the moment truly special.
Delicious Delights
Between the instrumental music and the piano show, guests indulged in the mouthwatering culinary offerings of Mayacoo Lakes Country Club. The food was simply amazing, and everyone had a chance to savor the delectable dishes. A toast to the birthday girl added an extra touch of celebration to the evening.
A Night of Singing and Dancing
As the dueling pianos took center stage, the audience couldn't help but sing along and hit the dance floor. The banter between the pianists and the song choices kept everyone engaged and entertained throughout the night. Guests were captivated by the seamless blend of old and new hits, creating an atmosphere of pure joy and fun.
Rave Reviews and Future Bookings
Denise, her family, and the entire guest list were blown away by the show. Compliments poured in for Felix And Fingers, with many guests expressing interest in hiring them for their own future events. The audience's enthusiasm and engagement were a testament to the duo's exceptional skills and ability to create an unforgettable experience.
The Felix And Fingers Dueling Pianos event at Mayacoo Lakes Country Club was a resounding success. From the active audience participation to the delicious food and the stunning venue, every aspect of the evening contributed to an unforgettable birthday bash. If you're considering hosting a dueling piano event, Mayacoo Lakes Country Club is the perfect choice. Contact Felix And Fingers Dueling Pianos at (800) 557-4196 to bring the magic of dueling pianos to your next special occasion. Don't forget to share this blog post with your friends and family to spread the joy of this incredible event!
{{ reviewsOverall }} / 5
Users
(0 votes)