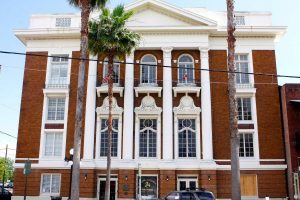 The Italian Club in Tampa, Florida, recently played host to an unforgettable dueling piano event, courtesy of the renowned Felix And Fingers Dueling Pianos. On August 24, 2023, the venue was transformed into a musical playground, where the keys came alive, and the crowd couldn't help but dance and sing along.
The food provided by the venue was nothing short of spectacular, leaving everyone's taste buds in awe. As the night unfolded, vendors couldn't resist joining the fun, requesting songs and adding to the electric atmosphere. It was a true testament to the captivating power of dueling pianos.
Under the spellbinding performances of Nathan, an exceptional pianist, the crowd was drawn into the venue like moths to a flame. The energy in the room was palpable as he effortlessly entertained the audience with his mesmerizing talent. Meeting and working with Nathan was an exciting surprise, and his performance left everyone wanting more.
The night was a perfect blend of general songs and personalized requests, ensuring that every guest felt a connection to the music. One particular request, Heaven On Their Minds from Jesus Christ Superstar, turned out to be an unexpected banger, igniting the crowd with its infectious rhythm and soulful melodies.
The Italian Club's staff couldn't resist the allure of Felix And Fingers Dueling Pianos. They were seen dancing and singing along, fully immersed in the contagious joy that filled the air. The vendors and friendly people in attendance were equally captivated, creating an atmosphere of celebration and camaraderie.
Amidst the lively ambiance, potential wedding clients found themselves enthralled by the magic of dueling pianos. The event served as a showcase for what could be, as the crowd couldn't help but imagine the enchantment of having Felix And Fingers perform at their own weddings. The short amount of time they played even led to an impromptu dance party, leaving everyone craving more.
The Italian Club proved to be the perfect backdrop for this musical extravaganza. Its beautiful venue set the stage for an unforgettable night, and the combination of talented musicians, vendors, and clients created an atmosphere of pure joy and celebration. The event was a testament to the power of music to bring people together and create lasting memories.
If you're considering booking a dueling piano event or looking for an exceptional venue like The Italian Club, look no further than Felix And Fingers Dueling Pianos. Their ability to turn heads and win over hearts is unparalleled. Contact them at (800) 557-4196 to unleash the magic of dueling pianos at your next event.
Share this blog post and let others experience the musical enchantment that unfolded at The Italian Club in Tampa, Florida. Together, let's celebrate the joy and love that music brings into our lives.
{{ reviewsOverall }} / 5
Users
(0 votes)