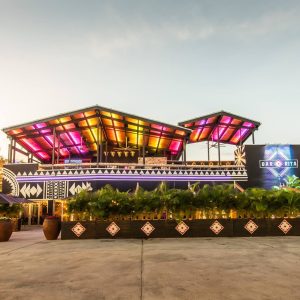 On June 21, 2023, Bar Rita in Fort Lauderdale, Florida, played host to an unforgettable Felix And Fingers Dueling Pianos event. Despite the summer heat, the evening was filled with music, laughter, and an electric atmosphere. From heartwarming Toy Story tunes to unexpected rap performances, this corporate event had it all. Let's dive into the highlights of the night and discover why Bar Rita proved to be the perfect venue for this dueling piano extravaganza.
A Venue with Heart and Passion
Bar Rita, known for its fantastic Mexican cuisine, stepped out of its comfort zone to host this exceptional event. The team, led by the passionate and wonderful Amy, went above and beyond to ensure everything ran smoothly. From the moment the guests arrived, they were greeted with the tantalizing aroma of delicious food and the sounds of Felix And Fingers' expertly DJed background music.
A Night of Musical Surprises
As the evening progressed, the excitement grew. The heads of the Union took the stage for a touching and inspiring presentation, setting the tone for what was to come. Once the dueling piano show began, the crowd was treated to a nostalgic trip down memory lane with classic tunes from the 80s and 90s. The pianists effortlessly blended classic rock and hip-hop, creating an infectious energy that had everyone on their feet.
A Rap Debut and Requests Galore
One of the pianists had a chance to showcase their hidden talent – rapping! It was a rare opportunity for them to perform their favorite rap songs, and the crowd couldn't get enough. The unexpected twist added a unique flavor to the night, leaving everyone impressed and wanting more.
But it wasn't just the pianists who stole the show. The audience was actively involved, submitting an overwhelming number of song requests. The air was filled with excitement as people eagerly participated, creating an interactive and engaging experience that made the event truly unforgettable.
The Felix And Fingers Dueling Pianos event at Bar Rita in Fort Lauderdale was an absolute hit. From the heartwarming moments that made the kids smile and dance to the surprising rap performances, this corporate event had something for everyone. Bar Rita's team, led by the passionate Amy, proved their ability to host an exceptional evening, showcasing their dedication and love for creating memorable experiences.
If you're looking to book a dueling piano event or searching for the perfect venue, look no further than Bar Rita. Contact Felix And Fingers Dueling Pianos at (800) 557-4196 to bring the magic of live music to your next event. And don't forget to share this blog post to spread the joy and inspire others to create unforgettable memories.
{{ reviewsOverall }} / 5
Users
(0 votes)
Name
Address
Website
Email
Phone
Price Range
Venue

Carousel Club

Address

901 S Federal Hwy




Hallandale Beach

,

Florida

33009