Our clients, Elizabeth and Daniel, chose wisely and held their special day at their Villa San Juliette Vineyard Wedding Celebration. Our performers Leana, Adam, Rosh, and Neil drove out to San Miguel, California.  A beautiful ride indeed. Wishing Daniel and Elizabeth a lifetime of love and happiness!
Villa San Juliette Vineyard Wedding Celebration San Miguel, CA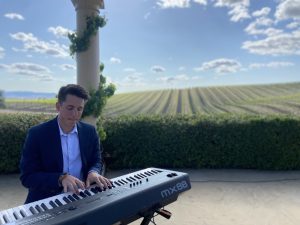 Firstly, crazy easy load in and out at Villa San-Juliette Vineyard & Winery. The winery's staff was professional, friendly, and on point moving effortlessly through the crowd unnoticed. The winery itself is a grand statement on its own. Certainly a treat for one's eyes. This Tuscan-style property contains an "upper lawn" complete with an outdoor arbor and patio. In all honesty, we've never seen anything more breathtaking. If you'd like further information on Villa San-Juliette Vineyard and Winery, please click here.
Villa San-Juliette Winery also offers an unforgettable backdrop vineyard view. Guests enjoyed this view as Daniel and Elizabeth exchanged vows. Adam performed live music for our Villa San Juliette Vineyard wedding ceremony. In addition, the recession was as fun as could be. We played our hearts out as the bride and groom walked out in unity.
On the other hand, we must say the maid of honor and best man had some great speeches. Daniel's best man even had cardboard cutouts made of the bride and groom. How awesome is that? We loved it! Dinner was delicious and we may or may not have grabbed a second piece of cake.
Tons of Fun and A Packed Dance Floor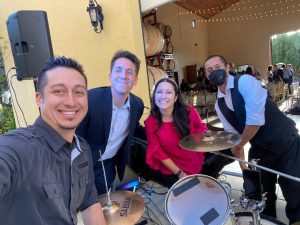 It was great having Rosh and Neil to add to our dueling piano gig. Our San Juliette Vineyard Wedding Celebration wouldn't be the same without Rosh and Neil. Neil held down the groove as Rosh ripped on the guitar. This got our Villa San Juliette Vineyard Wedding Celebration going!
We had our entire audience dancing all night at our Villa San Juliette Vineyard Wedding Celebration. Felix played a variety of songs from all genres. We loved all the requests piling up on our pianos. For example, some of the songs were slow dances such as Amazed by Lonestar and 10,000 Hours by Justin Bieber. Our audience sang and danced their hearts out. Everyone sounded amazing.
Above all, Adam had the groom receive a lap dance from his bride on a chair during Pony by Ginuwine. With more dancing and singing all night long, our gig was certainly a blast. When Felix kicked into LMFAO's Party Rock Anthem, this song had everyone going nuts! Our crowd simply loved us. Wrapping up our Villa San Juliette Vineyard wedding celebration with Hey Jude by the Beatles was so memorable. All in all, everyone went home happy. Another successful wedding in our books.
Contact Us
If you're searching for a one-of-a-kind party, look no further, Felix and Fingers will take over from here. We have many performers and offer a variety of different instruments, enriching your special day. If you'd like to hire Felix, send us an email at infor@felixandfingers.com. Do you require additional information? Click here and meet our players while checking out our show. We look forward to hearing from you soon!
{{ reviewsOverall }} / 5
Users
(0 votes)