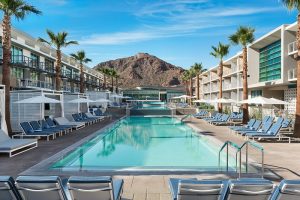 A recent wedding at the stunning Mountain Shadows Resort in Scottsdale, Arizona, turned into an unforgettable night of music, laughter, and dancing. The highlight of the evening was the incredible Felix And Fingers Dueling Pianos performance, which had everyone on their feet. Let's dive into the details of this magical event and discover why Mountain Shadows Resort is the perfect venue for a dueling piano extravaganza.
A Beautiful Venue in Arizona
Mountain Shadows Resort provided the perfect backdrop for this joyous celebration. With its modern decor and breathtaking views, the venue created an atmosphere of elegance and sophistication. As the sun began to set, casting a warm glow over the surroundings, guests couldn't help but be captivated by the beauty of the resort.
The Dueling Pianos Experience
Felix And Fingers, renowned for their high-energy performances, took the stage and immediately had the crowd engaged. The talented pianists effortlessly played off each other, creating a musical experience like no other. From classic hits to modern favorites, they had a vast repertoire that catered to all musical tastes.
Fun Bits and Memorable Moments
Throughout the evening, the dueling pianos show was filled with surprises and interactive moments. The guests, fueled by the contagious energy in the room, formed a conga line that weaved through the crowd, spreading laughter and excitement. And who can forget the Spice Girls dance? The entire room erupted into cheers as everyone joined in, reliving the iconic '90s girl power.
A Special Dance to Remember
As the night drew to a close, the newlyweds took the dance floor for their special moment. The couple had a unique connection to Elton John, having danced together at one of his concerts. It was only fitting that they chose "Your Song" as their first dance. The dueling pianists played the timeless melody, and the couple swayed to the music, surrounded by their loved ones. It was a magical moment that will be cherished forever.
Why Mountain Shadows Resort
The choice to have this dueling piano event at Mountain Shadows Resort was not a coincidence. The couple, originally from Florida, specifically chose Arizona for its pleasant weather and lack of humidity. The resort's stunning location and modern ambiance perfectly complemented the lively atmosphere of the dueling pianos performance.
The recent Felix And Fingers Dueling Pianos event at Mountain Shadows Resort in Scottsdale, Arizona, was a night to remember. From the beautiful venue to the energetic performances, every aspect of the evening contributed to an unforgettable experience. If you're considering hosting a dueling piano event or looking for a remarkable venue, Mountain Shadows Resort should be at the top of your list. Contact Felix And Fingers Dueling Pianos at (800) 557-4196 to bring the magic of dueling pianos to your next celebration. And don't forget to share this blog post with your friends and family to spread the joy of this incredible event.
{{ reviewsOverall }} / 5
Users
(0 votes)